Almost two weeks ago I uploaded a post called 'With My Last $10.00 I would buy.. | Part One'. This post was based on a series created by a blogging friend,
Sarah from
More Than Adored
.
Basically it's a list of super affordable products that I would recommend you pick up, even if you're super broke and need to limit your weekly retail therapy to only $10.00.
I've finally found a job (check out my insane 'When I Get a Job' shopping list here) but, before that, I was on a super tight budget and would find a bargain whenever and wherever I could.
I really enjoyed my first post so I decided to write a second, featuring more products that I'd recommend to anyone who was done to their last $10.00 before payday.
At the time of writing this post the Priceline website's shop online option was down so I couldn't add prices to the post but, as soon as I find that it's working again, I'll include the prices of the products in this post.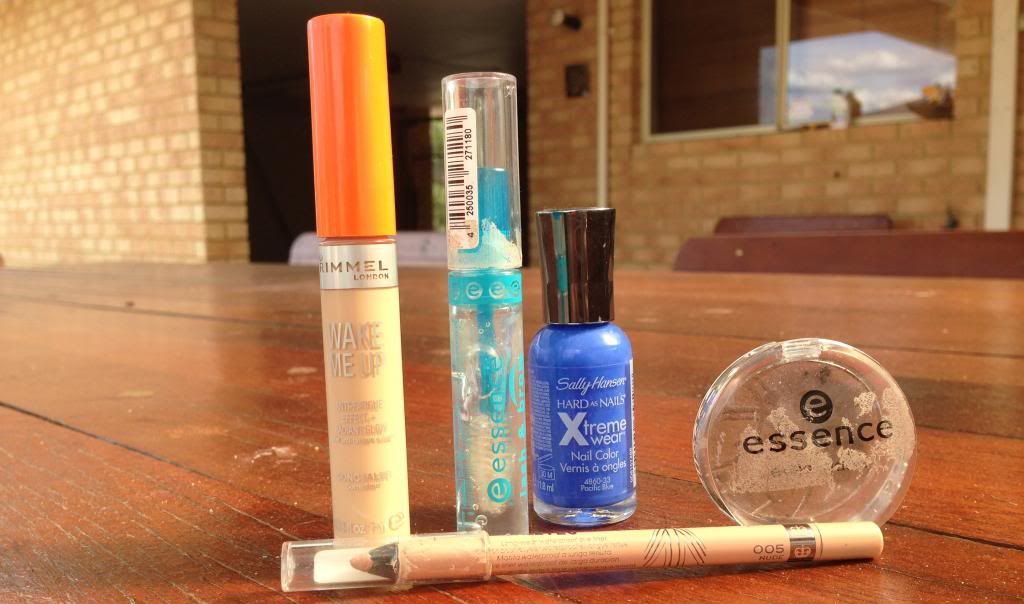 This concealer is somewhat new to my collection (it doesn't feature in the My Make Up Collection: Concealer post) and I'm really enjoying it. It's not great for active blemishes but it works well for under the eyes, redness around the nose and blemish scarring.
This concealer is $8.75 from ASOS with free shipping
Essence Lash and Brow Gel
I use this almost everyday to set my brows. It's just a fantastic product.
This is $3.50 from Priceline
Sally Hansen Hard as Nails Xtreme Wear Nail Color in #33 Pacific Blue
This colour is absolutely beautiful. It's one of those super vibrant and amazing colours that makes everyone say wow! I absolutely love this colour. To see it on, check out this nail of the day.
Not only is this colour nice though. I absolutely love the formula of these polishes in general
This is $6.95 from Priceline
Essence Mono Eyehadow in #35 Party All Night
This is honestly one of the most beautiful eyeshadows I've ever come across. It's such a smooth formula and I can not believe how cheap it is!
This is $3.25 from Priceline
Rimmel Scandal Eyes Kohl Kajal Eyeliner in Nude
I've only ever tried this formula of eyeliner in one shade, Nude, but I absolutely love it. I find the formula to be as good as, if not better than, my MAC Chromographic Pencil in NC15/NW20. I think the staying power is a little better, even if the
colour isn't quite as vibrant. Either way, it's a great product for the waterline.
This is $9.95 from Priceline

Rimmel Wake Me Up Concealer in Ivory | Rimmel Scandal Eyes Kohl Kajal Eyeliner in Nude | Essence Mono Eyeshadow in #35 Party All Night
So this is my second set of products under $10.00 that I'd recommend! I think there was a bit of everything in this post so I'm sure there's something that will appeal to you. If you've tried any of these products or have any you think I should include in Part Three, comment below!
Like what you're reading? Follow me.
Got Instagram? Follow me at BornToBuy!