I really like nail strips, stickers, foils and whatever other form they come in. I like the fact that the designs are always super cute, somewhat longwearing and so convenient. What I don't like, however, is the fact that they're so difficult to apply. I had basically given up on such products, purely because it's impossible for me to apply them without some sort of bubble, bump or lump. Let's be honest, ain't nobody got time for that.
I was recently sent some nail polish strips from OMG Nail Strips and, I'm going to be honest, they're amazing! They apply so well and, for once, there was no imperfections. I actually couldn't believe it!
To see how I apply these, keep on reading!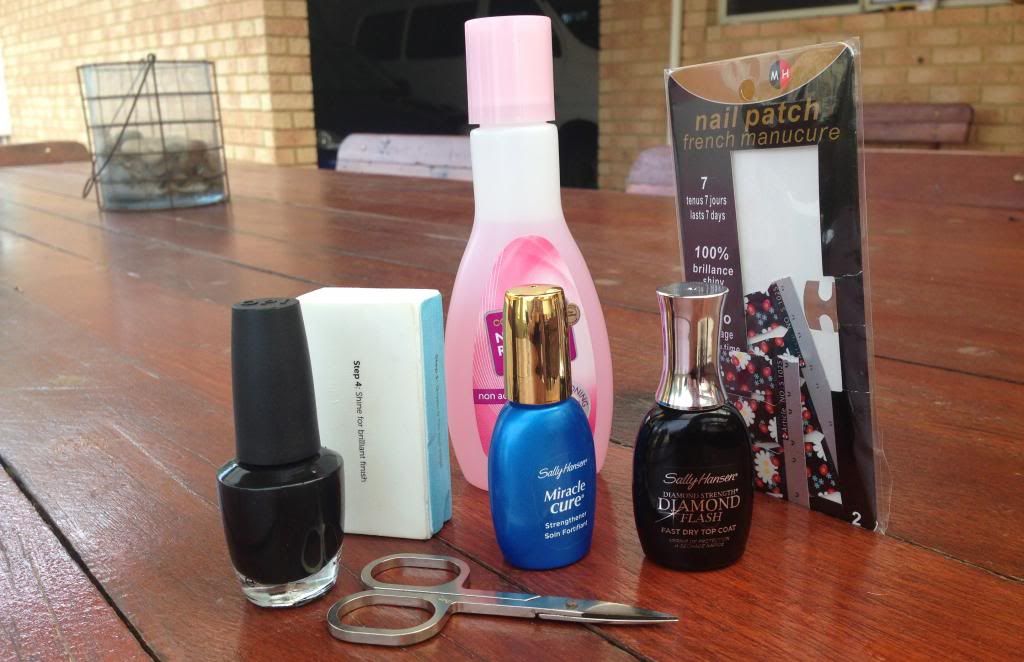 What You'll Need:
- Nail Polish Remover
- Nail File: I'm using the Sally Hansen No More Ridges)
- Nail Scissors
- Base Coat: I'm using Sally Hansen Miracle Cure
- Top Coat: I'm using Sally Hansen Diamond Flash Fast Dry Top Coat
- OPI Onyx Black
- OMG Nail Strips Black Floral Pattern
*** *** ***
STEP ONE: Clean your nails. Remove any previous nail polish and file, buff and prepare your nails however you deem most appropriate.

STEP TWO:
Work out which nail foil/sticker is the best size for each finger. For this pictorial I was just using these for accent nails so I only matched it to two fingers.
STEP THREE:
Once you know the sticker is the best size, it's time to apply it. Peel the back off and rest the base at the base of your nail near your cuticle bed. When you're happy with the placement, push the base down and move up. This method worked best for me and ensured there were no bubbles.
STEP FOUR:
To shape it to fit the nail, I first cut the excess sticker off to about 1cm from the tip of the nail. With the nail stickers and a very careful hand, then cut the excess sticker off, shaping it
directly around your nail.

STEP FIVE:
From there, all you need to do is continue the steps on all fingers. If you're doing this as an
accent nail, paint the excess nails and you're done!
I used my top coat over these stickers to increase the wear time but, as far as I'm aware, that's not necessary
As I said, these are the best nail polish strips I've ever tried. I'm so impressed. These nail strips are super affordable, with them all retailing for under $5.00. To check out OMG Nail Strips, click here.
*This product was sent me for review, however all opinions are my own. I was not paid for this review.
Like what you're reading? Follow me.
Got Instagram? Follow me at BornToBuy!