If you've been reading my blog for a while you'll know that I'm very fond of neutral make up looks. Not always neutral, necessarily, but I definitely venture away from coloured shadows. I'm going to be honest, coloured eyeshadows scare the hell outta me. With all that in mind, I'm sure you can understand how petrified (plus incredibly grateful, of course) I was to see that Michelle, the lovely owner of Lipstick Republic, had included this in my last order to review for all you!
After my mini freakout and initial apprehension, I decided to give this palette a try and, of course, I was pleasantly surprised.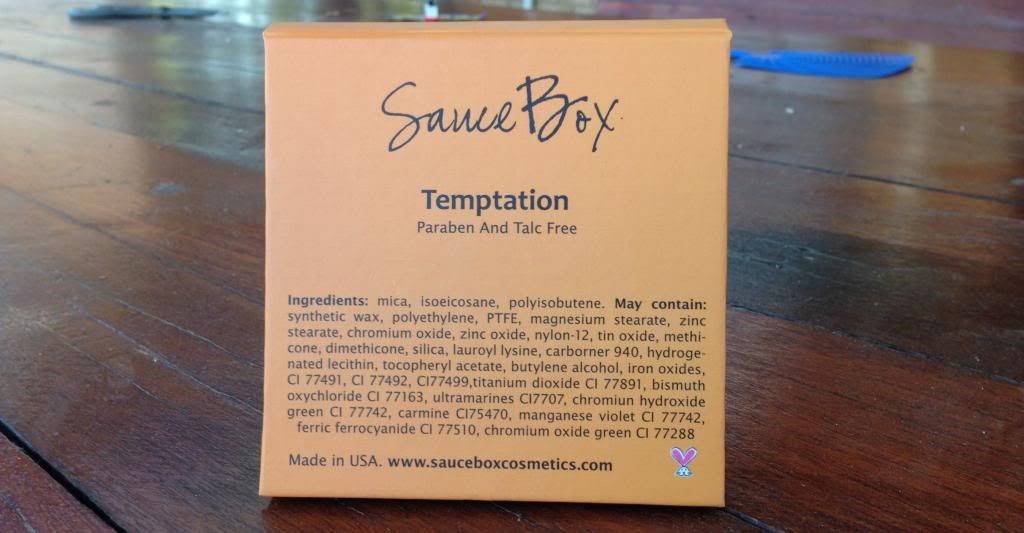 Now that you've seen the packaging etc, let's get into the actual product!
Firstly, I was to talk about the colours in this palette. There's four amazing colours but they don't have names so I'm going to do my best to explain them for you; cobalt blue, orange with gold glitter, turquoise and a yellow with gold shimmer.

As you can see from the swatches above, these eyeshadows are incredibly pigmented. I know pigmented is a word that's thrown around so often in the beauty community but it's the only word I can use to describe them. They're just so vibrant! These swatches were taken with one swipe only. Crazy, huh?
Not only are these eyeshadows super pigmented but they have insane super power. Below, check out the stain they left one my inner forearm after being swatched and on the skin for a mere 10 minutes. There was a definite stain that lasted for some time, especially from the orange and blue shadow. If they last this well by themselves, imagine how great they are when teamed with a primer!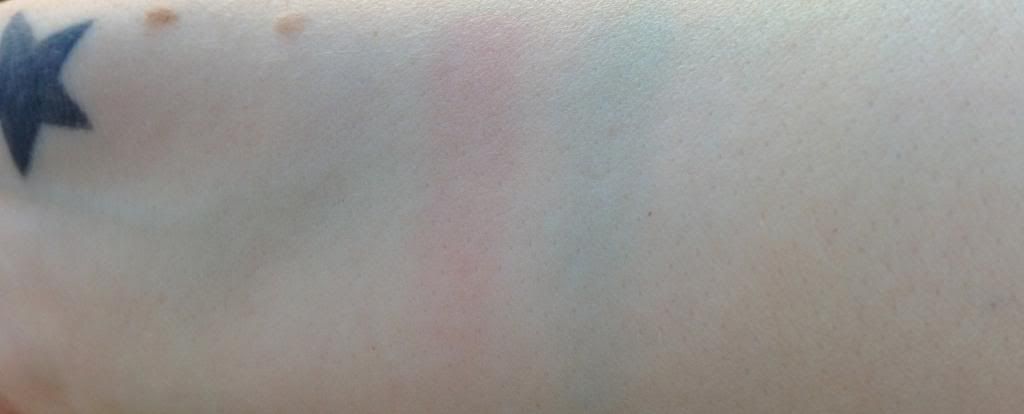 Now let's get into the formula of these shadows. I really like it. Given that they're quite matte (even the ones with shimmer are matte with the shimmer added, if that makes sense), they're a little more chalky than shimmery/frost shadows but that comes with the territory and I definitely wouldn't describe them as chalky. I just wanted to give you guys all the information.
I find these eyeshadows sooo easy to work with. They apply super smooth and, even though I packed a lot of the product onto the eye to enhance the vibrancy, there was little to no fall out. Not only do these shadows apply well, but they're super nice to blend!
Sometimes I find matte shades more
difficult to work with but I've never had an issue with these.
Finally, I'd love to show you a look I created using colours from the SauceBox Temptation Eyeshadow Palette. As I said, it's totally out of my comfort zone but I had such a good time creating it!


To create this look I placed the
yellow colour on the inner half of the eye. Placing a base layer and then patting more product on to intensify the colour. After that, I decided to use the orange shade as a crease colour. To intensify the look, use another and add depth, I patted the cobalt blue shade into my outer v, focusing it on the very outer edge. I then patted a little more yellow in the middle to ensure that colour was very vibrant and highlighted the inner comer of my eye with Inglot's #395 (swatch here).
I then recreated the look on my lower lashline.
I added a poorly applied eyeliner flick to the look because the line looked quite harsh without it and then I was done!
As you can see, the eyeshadows are super pigmented! Not only are they beautiful, they work really nicely with each other. I know I could have used the turquoise shade along my lower lashline but I think I was creative enough for one day, don't you?
All in all, I am super impressed with the eyeshadow quad and, although it won't be the most used palette in my collection, it's will definitely get a lot of use from me!
The SauceBox Temptation Palette can be purchased for $26.00 from Lipstick Republic and I highly recommend it!
*This product was sent me for review, however all opinions are my own. I was not paid for this review.
Like what you're reading? Follow me.
Got Instagram? Follow me at BornToBuy!