Highlighting is something I've only recently gotten into. As someone with oily skin, highlighting seemed like counterproductive part of make up application as, in my mind, it was adding shine after I worked so hard to take it all away. Eventually I realised, however, that well placed highlighter in liquid or powder form can do wonders for your face and really bring a whole make up look together.
I've used the Entourage Cosmetics Body Gloss Lotion in Shooting Star on and off for a couple of months now and it's really impressed me. To find out why, keep reading!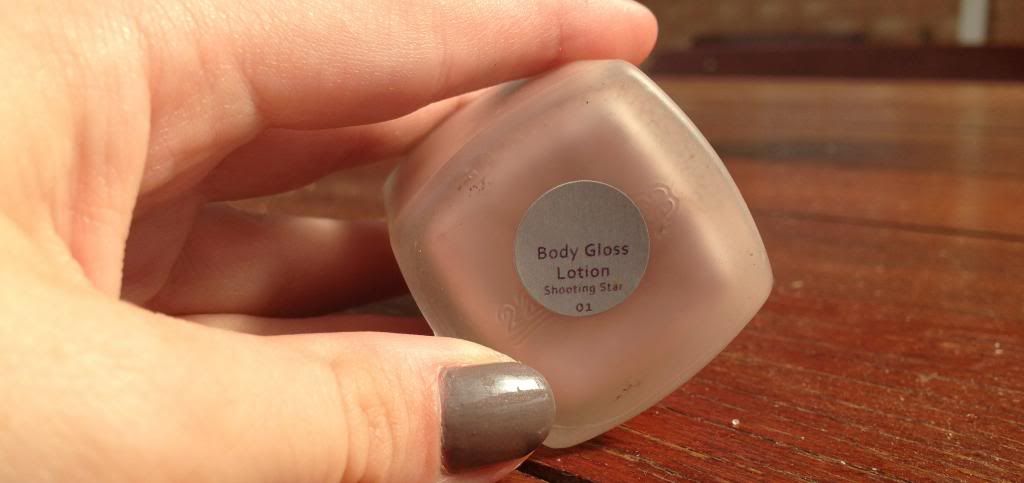 Before owning this, the only liquid highlight I had tried was Benefit's High Beam and, to be honest, that didn't impress me all that much. It's a nice product but it's very thin so I found it quite difficult to blend out into something that looks natural. The
Entourage Cosmetics Body Gloss Lotion in Shooting Star, however, is very different. T
his product is a pink toned
liquid illuminator that works perfectly on the tops of the cheekbones to provide a healthy glow and a luminous finish to the skin.
I find the consistency of the
Entourage Cosmetics Body Gloss Lotion in Shooting Star to be fantastic. As I mentioned, it's thicker than Benefit's High Beam, meaning I have more time to work with the product and more control over its placement on the face.
To apply this product, I use half a pump and pat it onto the cheekbones using my ring finger. It's really that easy.
This product is going to last you forever. I don't exactly know how big the bottle is (there's no measurement on it, however the photos may give you some indication) but, with the little amount needed to highlight and illuminate the face, it will last a while!


As you can see from the images above, the
Entourage Cosmetics Body Gloss Lotion in Shooting Star has a great amount of
luminosity to it. It's definitely not overpowering there's no large pieces of shimmer or glitter, ensuring that the effect is quite natural.
Entourage Cosmetics' Body Gloss Lotion in Shooting Star can also be used a all over body highlight or gloss lotion, depending on what you want to accentuate. I think that, with a nice pair of heels and a great dress, a small amount of this product mixed in
with a body moisturiser would look amazing on the legs.
This is a product I'm really interested in trying to use as the weather cools down, both mixed in with make up and applied underneath it. Whilst it's still too hot to try such application approaches here in Perth, over the next month or so I'll be able to see how it works when applied in different situations. I'l definitely report back to you!
Sorry this has been a short review, guys. Sometimes I really like a product but there's not a whole lot for me to say about it, it just works for me! Either way, I do hope you check it out if you can. It's a great product.
Have you tried it before? What do you think about highlighting? Are you a liquid or powder kind of gal?
*This product was sent me for review, however all opinions are my own. I was not paid for this review.
Like what you're reading? Follow me.
Got Instagram? Follow me at BornToBuy!