Although it hasn't been that long since my last Empties and What I'm Throwing Out post (click here to read about the products I finished from November, 2012, to March, 2013) I'm here with one that features even more products! To be honest, I think a few of these were finished quite a while ago but I forgot to feature them in the last post.
With that being said, there is a lot of stuff to be featured in this post so I won't be commenting on each and every product. Ain't nobody got time for that!
Either way, let's get into what I finished!
Priceline Beauty Essentials Nail Polish Remover | Palmolive Antibacterial Cold Force
Detergent | Rexona Women Hypo-
Allergenic | Dove Pink Deodorant
I'm not showing you the dish washing detergent my house ran out of recently. No. The Palmolive Antibacterial Cold Force dish washing detergent is great for washing make up brushes. It deep cleans them so well and, given that I only use it for my synthetic brushes, it doesn't dry them out.
Essence Cherry Blossom Girl Paper Lashes | Australis Fresh & Flawless Pressed Powder | Maybelline Baby Lips in Anti-Oxidant Berry | Swisspers Make Up Pads
In January I used up a set of the Essence Cherry Blossom Girl Paper Lashes and I
keep forgetting to include them in my empties posts. I filmed myself getting ready with the lashes, as well as took a million photos, so let me know if you want to see the whole look!
Clean and Clear Deep Action Cleansing Wipes | Clean and Clear Essentials Oil Control Toner | Target
Naturals Toner for Oily/Combination Skin | Target Eye Make Up
Remover Wipes | So Fresh Make Up Wipes | Clean and Clear Advantage Spot Treatment | Benefit It's Potent Eye Cream sample (x2) | Clinique 3 Step Toner | Mario Badescu Toner Sample
Aesop Parsley Seed Cleansing Masque (x2) | Aesop Chamomile
Concentrate Anti Blemish Masque | Aesop Parsley Seed Anti-Oxidant Serum | Aesop Seed Parsley Cleanser | Aesop Amazing Face Cleanser | Dermalogica Special Cleansing Gel
It's no secret that I love samples. I try to score them whenever I can and, of course, I love to give them a try. It's really hard to judge a product based on a tiny sample but I quite like the
Aesop Parsley Seed
Cleansing Masque and am considering purchasing it.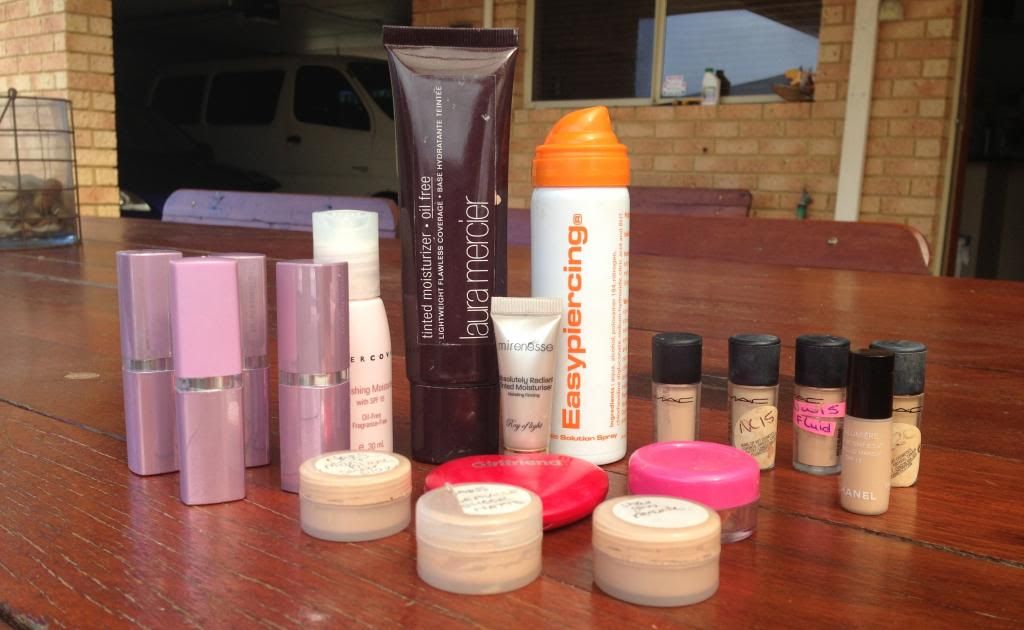 A selection of very old Maybelline Wet Shine Diamond Lipsticks | Sheer Cover Nourishing Moisturiser | Laura Mercier Oil Free Tinted Moisturiser | Mirenesse Absolutely Radiant Tinted Moisturiser Sample| Assortment of MAC, NARS and Chanel samples
I did a little bit of a cull of my make up collection and have chucked a bunch of products I'm never going to use, including a selection of Maybelline lipsticks that haven't been available for sale in I don't even know how long!
So that's everything I've thrown out in the past few months. There's so much more than normal and, to be honest, I'm really glad to be getting through some things, especially those that I won't be repurchasing.
Have you tried any of these products? Would you recommend them? Also, do you sometimes find yourself finishing more products than other times?
Like what you're reading? Follow me.
Got Instagram? Follow me at BornToBuy!