In February of 2012, almost a year ago, I bought the famous Urban Decay Naked Palette. This palette is so hyped up in the beauty community that I almost didn't write this review. There's so many posts like this online and, to be honest, I didn't know whether I wanted to add to them.
For a long time the Urban Decay Naked Palette had me feeling very indifferent. I didn't love it, nor did I hate it. I used it occasionally, but purely because it was there. Would I have missed it? No. After taking this away with me, however, I'm a total convert. I went from thinking it was a waste of money to a thinking it was a great investment and something that I wanted to share with you all!
Before I talk about the product, I want to show you the colours available in the palette. There's 12 colours in total, with the formula varying from matte to shimmer (two matte, 10 shimmer shadows).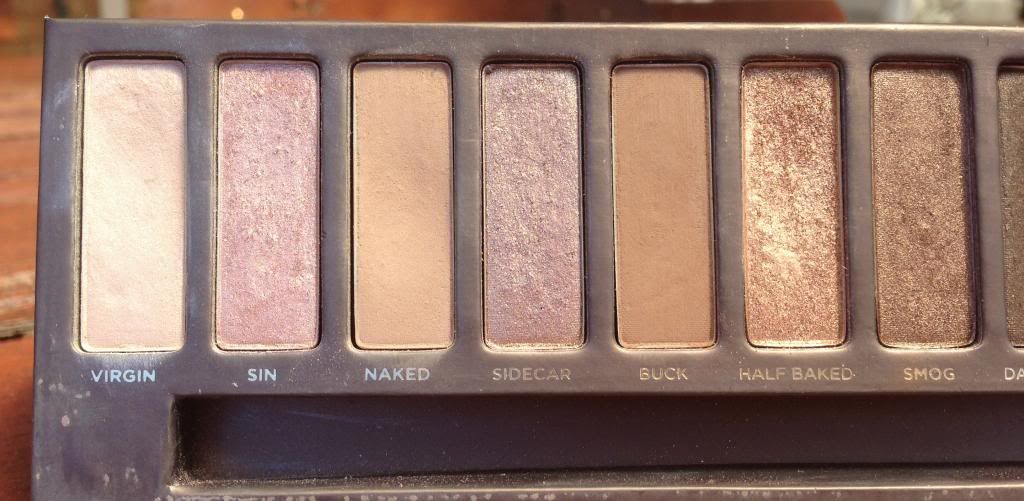 Left to Right: Virgin, Sin, Naked, Sidecar, Buck and Half Baked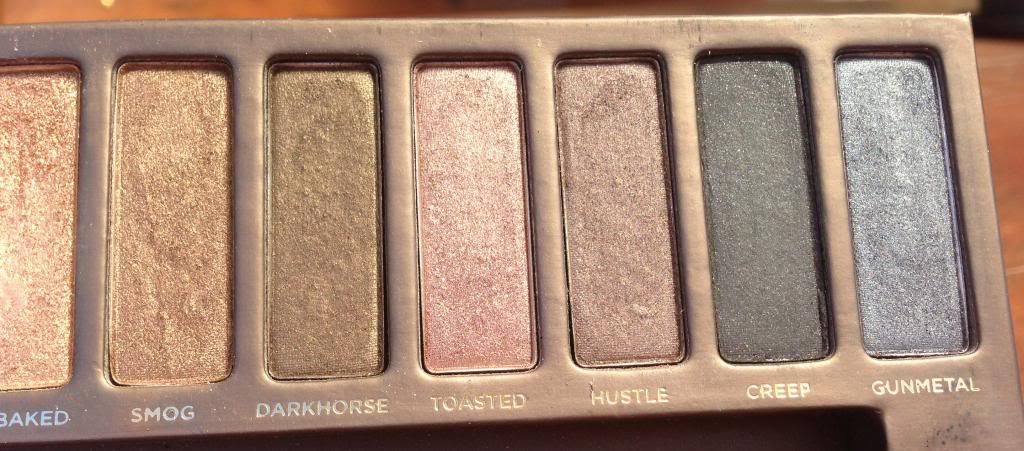 Left to Right: Smog, Darkhorse, Toasted, Hustle, Creep, Gunmetal
As you can see, there's quite a varied range of colours in the Urban Decay Naked Palette. The swatches above aren't as true to colour as I'd like but it's the best I was able to get. Sorry! If you want incredibly true to colour photos, click here. I'm terrible at describing colours so I'm going to leave that to the expert -
Virgin (satin chamois), Sin (champagne), Naked (matte buff nude), Sidecar (cocoa with golden sparkle sheen), Buck (matte nutmeg), Half Baked (subtle, lustrous bronze), Smog (deep coppery bronze), Darkhorse (bronze patina), Toasted (rich copper), Hustle (plum brown satin), Creep (onyx with gold sparkle) and Gunmetal (gunmetal grey with silver glitter)
This is the first and only time that I've had the opportunity to try Urban Decay eyeshadows and, let me tell you, they don't disappoint! They are some of the best I've ever tried. I definitely want to pick up some more and that's based on my opinion of these alone.
The eyeshadows in the Urban Decay Naked Palette are super pigmented, as seen in the swatches above, and incredibly blendable. Each eyeshadow applies really nicely and blends out really easily if needed. Matte eyeshadows have a reputation for being a little more difficult to work with, however Naked and Buck (the two matte shades in the palette) apply as well as any other in the palette.
Whilst I have never used the last two colours in the palette (I don't know why as I often rock a smokey eye on a night out) I haven't had an issue with fall out, regardless of the way I apply it. From my experience, I think Sidecar has the most fall out but it's very minimal!
One of my favourite things about this palette is how versatile it is. Given that it's a palette, all of the eyeshadows work well together to make any eye look; nude, daytime, smokey etc. They eyeshadows can also be used alone, either to create a very simple look or in conjunction with eyeshadows from other brands. On a lazy day I love using Sin as a lid colour, with Naked in the crease and Virgin in the inner corner. On day when I want a little more depth, I love using a combination of Toasted and Hustle in the outer corner! On darker days, I really love Smog all over the lid! It's absolutely beautiful with my blue/green eyes and, given that I have Smog in liner form also, it's so easy. If you'd like to see posts on any of these looks, please let me know below!
When it was first released, the Urban Decay Naked Palette was sold with an Urban Decay Original Primer Potion mini and an Urban Decay 24/7 Glide on Eye Pencil duo in Zero and Whiskey. I'm not entirely sure why but they stopped selling it with the eyeliner duo and it's now sold with a cruelty free Urban Decay Good Karma Shadow Brush. I quite like this brush for cream products but I don't think it's the great when used in conjunction with the shadows. That could just be me though.
All in all, I really love this palette. Unfortunately it's unavailable in Australia but it can be bought from BeautyBay.com for $52.21AU, equalling under $5.00 per shadow. When you work it out like that, it's almost a crime to NOT buy it. To check it out on the BeautyBay.com page, click here. If $52.21AU is a bit out of your budget, Chic Chi has recently released a very comparable 'Nudes' palette that can be purchased for $19.95AU. Check out a fellow Perthian blogger, Mishelle, and her comparison post here.
What do you think of the Urban Decay Naked Palette? Do you have it? Do you want it? Do you think it's overpriced and/or overhyped? Have you tried any other Urban Decay palettes? I'd love to pick up the Naked 2 (no, I know I don't need it), as well as the Naked Basics palette and the Glinda Palette (I just love that good witch!).
Like what you're reading? Follow me.
Got Instagram? Follow me at BornToBuy!