I set myself a Project Pan challenge in mid October (to see the full post, click here), meaning that I had to use up 15 beauty products (haircare, skincare, cosmetics etc) before I was allowed to purchase any more. I'm not going to go into the rules I get myself because, well, there's a lot. To see them, click here.
In early December I uploaded my first
Project Pan update. To see how I've been going, click here. To see how I went using up products since then (December), click here. You'll see that I also decided to increase my limit to 20 products, not 15.
When I first set myself this
challenge I decided that it would mean I couldn't spend any money on cosmetic and beauty products. I've since changed my mind. Why? Because I'm weak! I haven't bought anywhere near as much, however, only buying replacements of things I really 'need' or taking advantage of fantastic deals.
Also, to see the product I've used up that I don't consider to be a part of my Project Pan, click here.
So let's get into what I've used up, including the products featured in my last update!
Products featured in my last Project Pan update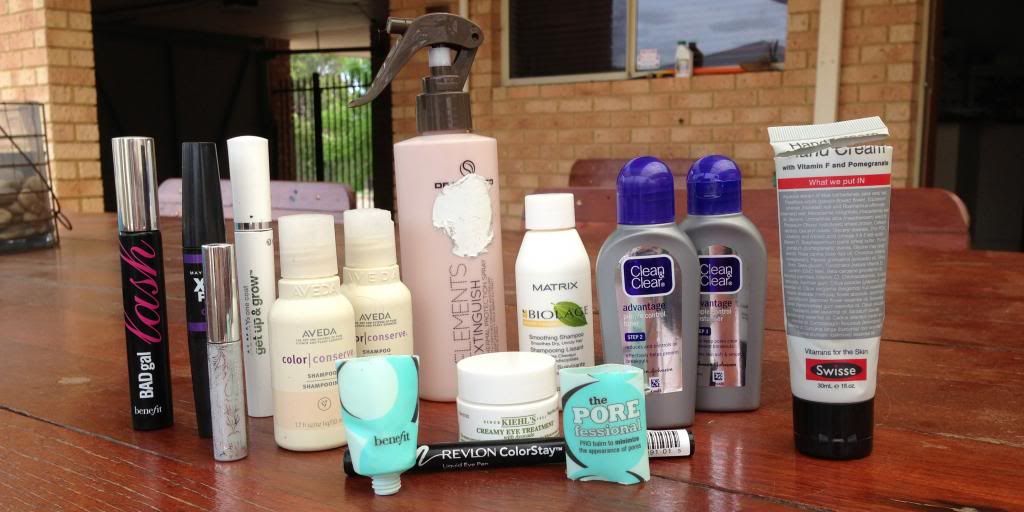 Benefit Bad Gal Lash Mascara Review | Maybelline XXL Pro Curl Mascara | Almay Get Up & Grow Mascara | 2 x Aveda Color Conserve Shampoo 50mL mini | De Lorenzo Elements Extinguish Thermal Protection Spray | Matrix Biolage Soothing Shampoo | Clean and Clear Advantage Pimple Control Toner | Clean and Clear Advantage Pimple Control Moisturiser | Swisse Hand Cream | Benefit The POREfessional Pro Balm | Kiehl's Creamy Eye Treatment with Avocado | Revlon Colorstay Liquid Eye Pen
There's a lot of products in the second image, as you can see! I've used up a lot of 'stuff' lately, haven't I? I'm definitely sad to see some of it go.
The Almay Get Up & Grow Mascara is incredible. I received it in my July Bellabox and I totally fell in love with it. This product makes my lashes so feathery and natural and it looks absolutely amazing on. I got so many compliments when I wore this mascara! I definitely want to repurchase it and, when I do, I'll be reviewing it.
I love Benefit's The POREfessional Pro Balm but I make no secret of that. I already had a back up in my collection which is why I've allowed myself to include it in this post and not an empties.
The Swisse Hand Cream is unlike my Soap & Glory Hand Food and, for that reason, I thought I'd really hate it. I was so surprised though and I really, really like it! It's a lot heavier than Soap & Glory's Hand Food but it absorbs so quickly. It has quite a strong orange scent to it, however, so I do wish it came in other fragrances.
I'm not going to talk about any of the other products because, well, this post will go forever if I do. If you want to hear more about any of the other products listed, please request a review in the comments below. Alternatively, feel free to Tweet me your questions or post them on my Facebook page. I love to talk to you all!
You may have noticed that I've actually reached my goal of 20 products, hitting 21!
I'm quite impressed, if I can say so myself, given that I'm terrible at using products up!
There's four 50mL sample products so I've counted them as two products as many products are 100mL each. Like my logic? I'm
actually going to keep trying to use up as much as I can for a bit longer, at least until I manage to find a damn job!
Do you struggle to use products up? What's your Project Pan record?
Like what you're reading? Follow me.
Got Instagram? Follow me at BornToBuy!