A while ago I started a new series here on Born to Buy, My Make Up Collection. I decided that I'd share a part of my make up collection with you each week until, well, you've seen it all. This series is not about reviewing products because that would take forever but, if I've reviewed a product already, I'll be sure to link it!
I'm sure this goes without saying but please don't take this series of posts as bragging. That is not my intention at all.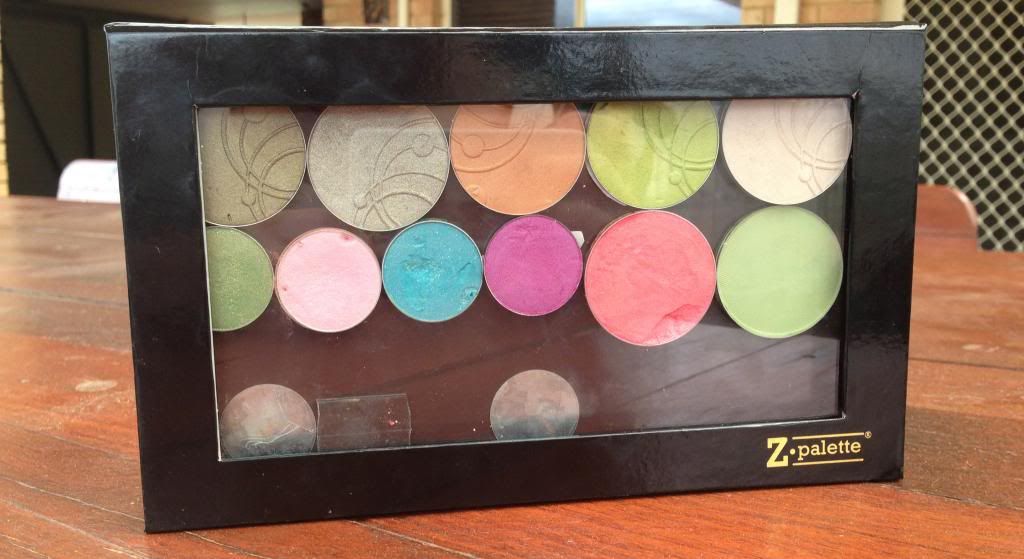 Essence #52 Olive Garden | Essence #45 Back to Khaki | Essence #59 Copper Island | Essence #60 Kermit Says Hello | Essence #58 Cappuccino, Please

Napoleon Perdis Private Garden |
Napoleon Perdis Private Fairy |
Napoleon Perdis Private Ocean |
Napoleon Perdis Ultra Pearl #2 Purple Passion |
Napoleon Perdis Colour Disc #79 Coral Spice |
Napoleon Perdis Colour Disc #50
Many of my individual eyeshadows are stored in my Black Large Z-Palette which I purchased from Lipstick Republic. I love that they're all stored in one location and individual shadows aren't all over the place! To read more about my Lipstick Republic experience, plus my haul, click here.

MAC Brule | MAC Ricepaper | MAC All That Glitter | MAC Patina | MAC Charcoal Brown | MAC Carbon | MAC Wedge | MAC Follow Your Fantasy Eye Shadow from Tartan Tale Collection
These MAC swatches didn't photograph well at all. I'm really sorry! Let me assure you, the are a lot more pigmented in real life! I really love my MAC eyeshadows, with my favourites being Ricepaper, All That Glitters, Patina and Wedge. I have two MAC eyeshadows that aren't in my palette as I managed to crack Carbon slightly when attempting to. I'm not going to risk it again!


L'Oreal Color Infallible Eyeshadow in #002 Hourglass Beige | L'Oreal Color Infallible Eyeshadow in #004 Forever Pink | L'Oreal Color Infallible Eyeshadow in #012 Endless Chocolat | L'Oreal Color Infallible Eyeshadow in #021 Sahara Treasure | L'Oreal Color Infallible Eyeshadow in #027 Goldmine
If I could only recommend one set of eyeshadows featured in this pots, it would be those from the

L'Oreal Color Infallible Eyeshadow line. These eyeshadows are absolutely beautiful. They are so pigmented, smooth and long wearing! Their price is a little steeper than you want to pay for an individual eyeshadow from the 'drugstore' but L'Oreal often has three for two offers etc.


NARS Eyeshadow Duo in Alhambra | NARS Individual Eyeshadow in Persia | NARS Individual Eyeshadow in Lhasa
These eyeshadows are beautiful too. Oh, I love them. My favourite is the duo in Alhambra, but I also really like Lhasa. Persia is obviously not an everyday colour but I got sucked into it. These eyeshadows are a great formulation.

L'Oreal HIP Pigment Metallic Eyeshadow Duo in #310 Shocked | Bourjois Eyeshadow in #48 | Rimmel Special Eyes Eyeshadow in #022 Inspiration | ELF Eyeshadow Duo in #3 | Essence #35 Party All Night
These eyeshadows are probably the least used in my collection, yet I like them all too much to part with them. I really love the Essence eyeshadow, Party All Night, but struggled to depot it.
I've not reviewed any of the products featured above. If you would like to see a review of a product, please comment below. I'd be happy to add it to my list of products to review!
Have you tried any of these individual and duo eyeshadows? What did you think of them? I don't need anymore cream bases/shadows but is there any you'd recommend? I really want to pick up a couple from Sigma. They look and sound fantastic.
* - Indicates products that were provided for review or as a PR sample. These products have remained in my collection, meaning that I have not yet posted about them, I genuinely like them or both.
Like what you're reading? Follow me.
Got Instagram? Follow me at BornToBuy!