This month I've been loving a few new products whilst rediscovering ones that have been in my collection for a while now! I was hoping to include a few skincare products in this favourites but, if you follow me on Instagram or have read my last post, you'll know that I've had the World's Worst Breakout. I started using a few different things at the same time a few weeks ago so I can't say what it was but if I end up identifying the culprit I'll be sure to let you know!
For obvious reasons I only have one real face product this month but I think I have more than most months. Either way, let's get into it!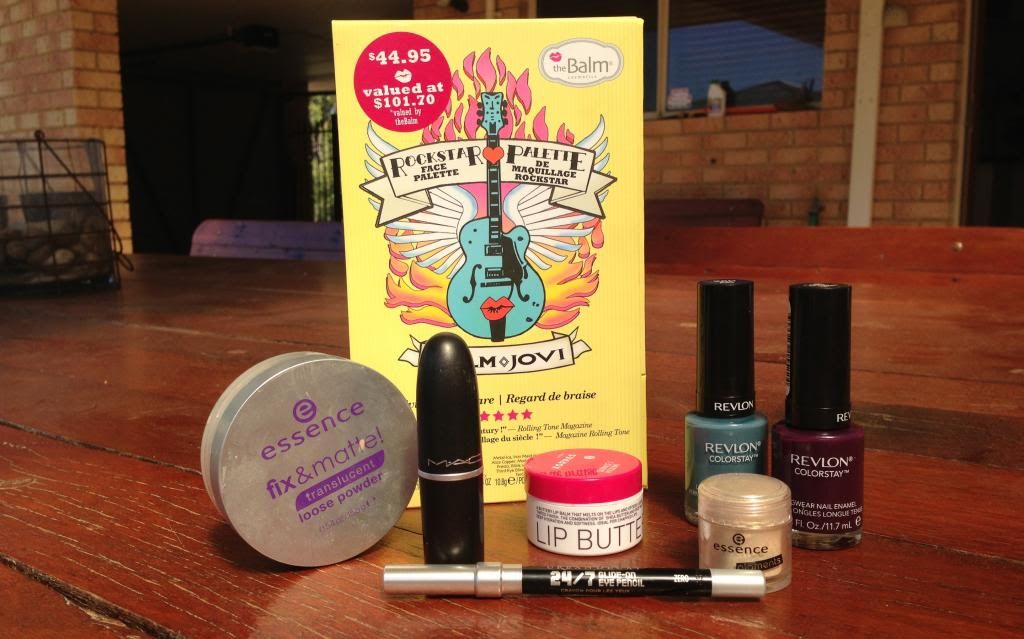 The Essence Fix & Matte Translucent Loose Powder is an amazing product. I've used it to set my under eye concealer for months now so, to be honest, I'm not sure why I've not written about it already. It's a super finely milled product that sets everything. If you want to give this product a try, you need to be quick. Unfortunately this is one of the products Essence is discontinuing. To read all about it, click here.
If you've been following my blog for a while now you'll know that I did a beauty swap from EsteemBeautyxo earlier this month. Lisa spoilt me beyond belief (to see everything she sent me, click here) and sent me some amazing products. I'm absolutely love the Balm Jovi Rockstar Face Palette from The Balm. It has such a beauty selection of eyeshadows and I'm finding myself reaching for the highlighter more than my MAC Soft and Gentle Mineralised Skinfinish. Can anyone tell me if the highlighter is similar to the Mary Lou-Minizer by them? She also sent me a Revlon Colorstay Longwear Nail Enamel in #280 Blue Slate and I love it. I love the colour and the formula so much that I picked up another, #260 Bold Sangria. I really love both colours and I'm sure I'll be picking up more from the collection.
For my lips, MAC's Creme Cup is a winner. It's such a versatile and wearable product. Creme Cup is my fallback lipstick colour and I always gravitate towards it when I can't decide what to wear.
I've owned my Korres Lip Butter in Quince for quite a while now but, for some reason, have never really liked it. I started keeping it on my bedside table and using it before bed and wow. How have I only just discovered it?! This keeps my lips moisturised so well and I've found that I've used my Maybelline Baby Lips a lot less this month, especially when I applied the
Korres Lip Butter at the start of the day.
Finally, there's eyes. I've been loving tightlining my eyes (only the upper line, I don't look good with eyeshadow on my waterline). It makes me eyelashes a lot looker and adds intensity to any eye look without being drastic. For that I've been loving Urban Decay's 24/7 Glide On Eye Pencil in Zero. It's such a great black. I also really love the Essence Color Arts Pigment in #09 My Brightsmaid. It's a beautiful gold toned highlight colour and works well as an inner corner highlight for a gold look or as an all over lid colour. For swatches, click here.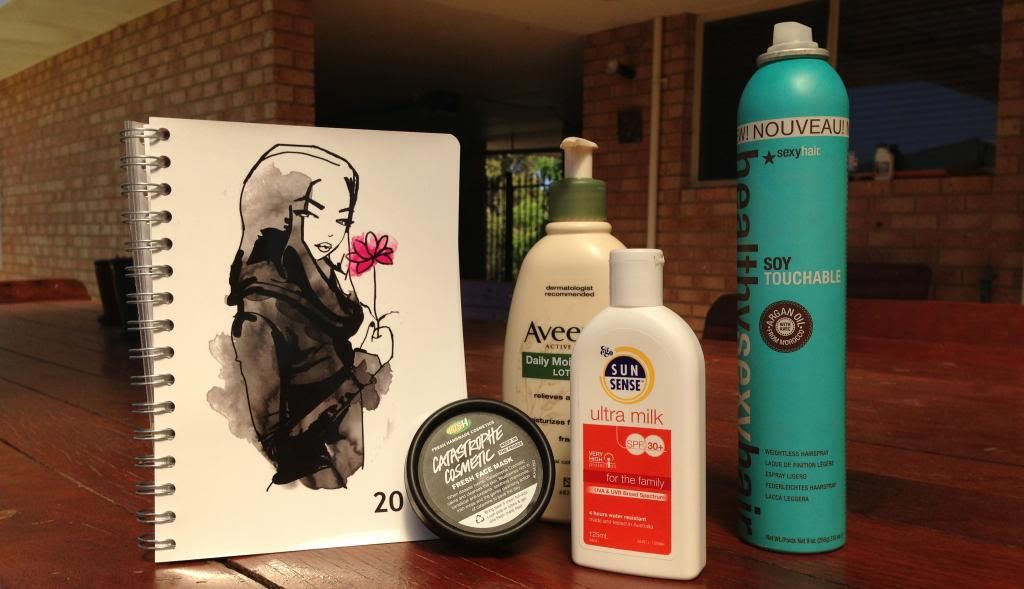 I've started using a few new body products this month, Aveeno's Daily Moisturising Lotion and Sun Sense Ultra Milk SPF 30+. I've never been very diligent when it comes to wearing sunscreen and adding sun protection but, a few weeks ago, I decided enough was enough. As far as sunscreen goes, this is a nice one. I find it applies well and doesn't leave a gross finish. I've also finally added a body moisturiser to my routine. I'm so bad when it comes to remembering to moisturise but the
Aveeno Daily Moisturising Lotion is lovely. It's left my skin so soft and that alone has been enough to encourage me to keep using it.
LUSH's Catastrophe Cosmetic Fresh Face Mask is quite nice. I feel like it hydrates and brightens my face quite well and, in a time when I can't control much to do with my skin, it's nice to know I can fall back on this to make myself feel a little nicer.
My hair needs a haircut. Badly. To combat the 'my hair needs a haircut' hair I've been wearing it in buns and top knots heaps. Given that I have curly/frizzy hair, I have a few fly aways near my face and the Sexy Hair Health Sexy Hair Soy Touchable hairspray works great. This isn't a hair spray that I think could be easily brushed out but, to be honest, that's
not what I look for in a hair spray so that doesn't bother me!
Last but not least, I'm absolutely loving my Personal Planner. This diary has helped keep me so organised this month. I often find myself using stationery I really like and this definitely fits into that category. If you want to win your own Personal Planner, click here.
So that's everything I've been loving this month. It's quite a bit, don't you think? What have you been loving this month? As always, please tell me below! Also, what would you say is a dupe for the
Essence Fix & Matte Translucent Loose Powder. I've not run out yet but, with it being discontinued, I want to know what I can fall back on.
Like what you're reading? Follow me.