In January I contacted Lisa from EsteemBeautyxo, a blogging and vlogging friend of mine, to see if she wanted to do a blog/beauty swap with me. I absolutely love Lisa and her videos. She's such a lovely person so I'm so glad she wanted to do this with me!
Lisa and I set ourselves a limit of $50 each and I'm sure we both went over, however the amount she gave me is insane! Lisa, I know you said you're just a good 'bargain hunter' but I fail to believe you got everything you did within the limit or even near on. You're too lovely.
I'm sure you're all interested in knowing what she got me, so let's get into it!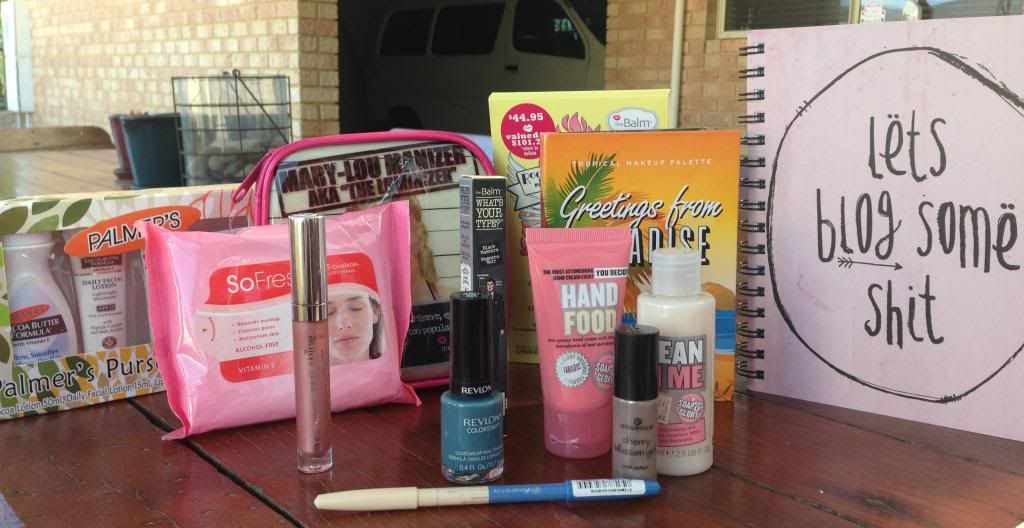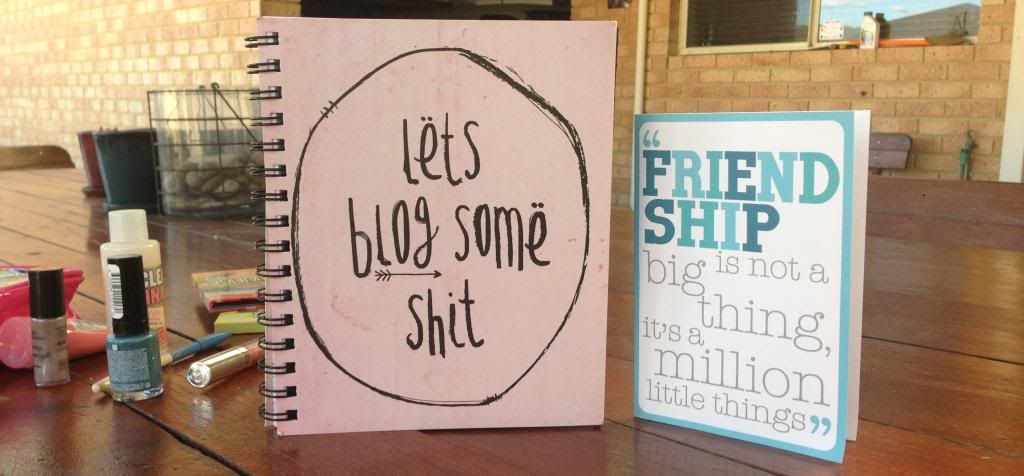 Let's Blog Some Shit Notebook and Card
This notebook is from Typo and I absolutely love it. Typo is one of my favourite stores so I have no idea how I've never seen this. Either way, I love it!
The card, as well as the words inside it, is lovely.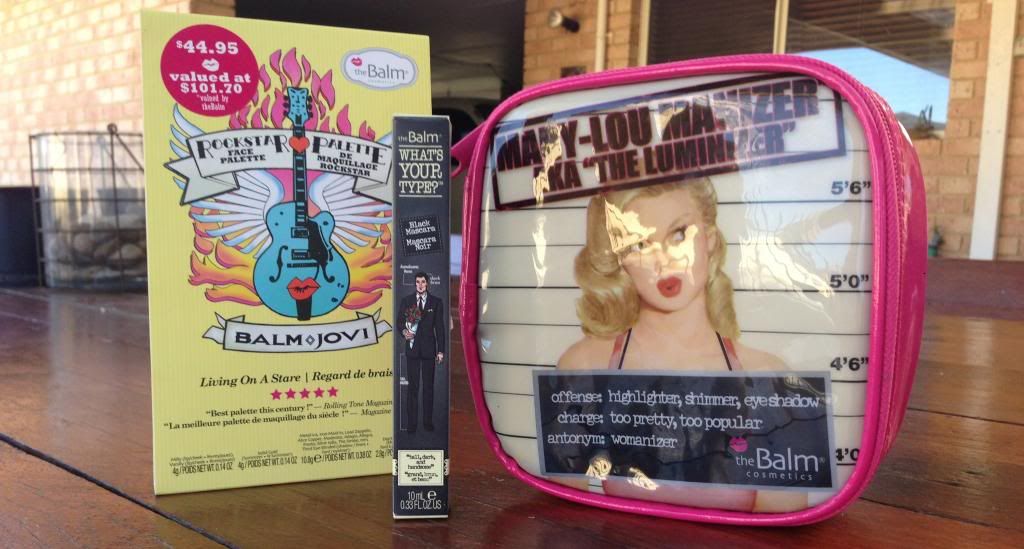 The Balm Balm Jovi Face Palette -
I've heard so many people rave about this product and I'm so excited to try it! The eyeshadows are absolutely beautiful.
The Balm What's Your Type? Mascara -
I haven't opened this mascara because I already have quite a few open at the moment, but I'm so excited to try this! I've looked up images of the brush and it looks great. It's in black which is my mascara colour of choice and I'm going to do all I can to finish some of my open mascaras ASAP.
The Balm Cosmetics Bag -
Too cute, Lisa!
Revlon Colorstay Longwear Nail Enamel in #280 Blue Slate - I've wanted to try this nail polish formula for so long now (in fact, I almost bought one today!) so I'm really excited to try this. I love the colour too! It's so me.
Essence XXXL Shine Lipgloss in #07 Big Night Out - This lip gloss is so beautiful. I've never tried one of the Essence lip glosses in this formula but it feels amazing on the lips. The colour is perfect (you're too good, Lisa) and I feel like it's quickly going to become a staple product.
Soap & Glory Hand Food - This hand cream is a favourite of mine. Click here to see a review of it.
Soap & Glory Clean on Me Creamy Clarifying Shower Gel - This smells just like Hand Food. I have wanted to try some of the other Soap & Glory products so this is going to be a great start.
Essence Cherry Blossom Girl Nail Polish #02 My Little Kimono - If you saw my
Essence Cherry Blossom Girl
haul, you'll know I only picked up on of the nail polishes from this trend edition. I loved them all but, given that I'm doing Project Pan, I only allowed
myself to get one. I'm so excited to have another polish from the Trend Edition in my collection!
Essence Ready For Boarding 2 in 1 Kajal Pencil in Destination Sunshine - I already own this 2 in 1 eyeliner and love it (click here to see my review)! The beige end is one of my go to brightening eyeliners and, given that it was from a trend edition, I was concerned about what would happen when I ran out. I'm so glad to have a back up!
Ulta3 Greetings from Paradise Tropical Makeup Palette - I love Ulta3 nail products yet I've only ever tried one of their cosmetic products, a lipstick. This palette is a great way to try more of their products and formulations and I absolutely love the colours, especially the plum eyeshadow shade! I've had my eye on a shadow in this colour for a while.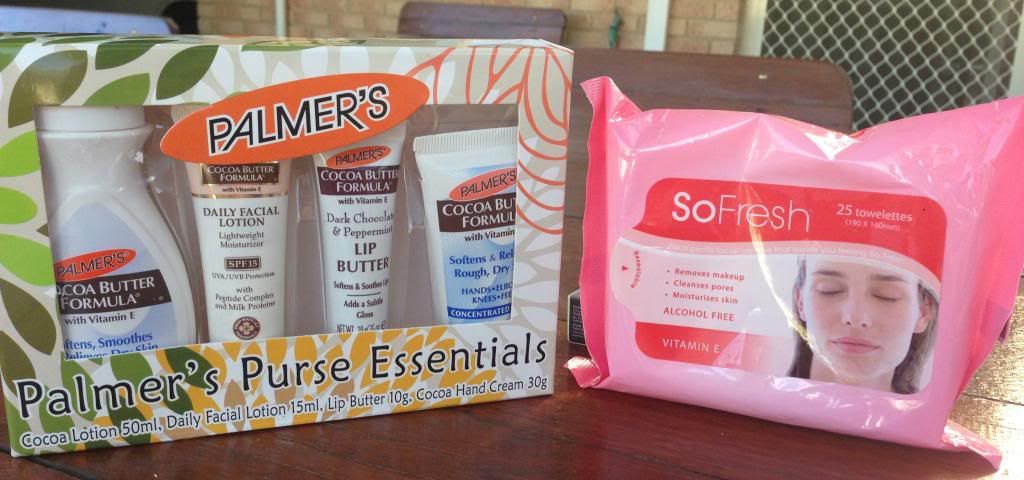 Palmer's Purse Essentials - This kit has everything in it! Surprisingly, I've only tried the Palmer's Cocoa Butter Body Lotion a handful of times so it'll be great to try other products in the range.
So Fresh Vitamin E Towelettes - A girl can never have too many face wipes, right?
Once again, Lisa, thank you so much for all these goodies. Seriously. You spoilt me ridiculously. I almost feel like I should pick up all the things I thought about grabbing and sending you a second package, ahaha.
Lisa, I absolutely love your videos and hope we
can do something similar in the future.
Seriously, everyone, check Lisa's YouTube channel, EsteemBeautyxo. My goodies will be
featured in an upcoming video or post so stay tuned! Also, have you tried any of these products? If so, what do you think?
Also, please email me if you're interested in doing a beauty swap with me! My email is dontstopbuying@hotmail.com
A
lways look your best,
Like what you're reading? Follow me.
Got Instagram? Follow me at BornToBuy!