I set myself a Project Pan challenge in mid October (to see the full post, click here), meaning that I had to use up 15 beauty products (haircare, skincare, cosmetics etc) before I was allowed to purchase any more. I'm not going to go into the rules I set myself because, well, there's a lot. To see them, however,
click
here
.
I set myself this challenge to use products in my collection. Where I could, I replaced an empty product with something else in my collection so that the product could be counted.
In early December I uploaded my first
Project Pan update.
So let's get into what I've used up, including the products featured in my last update!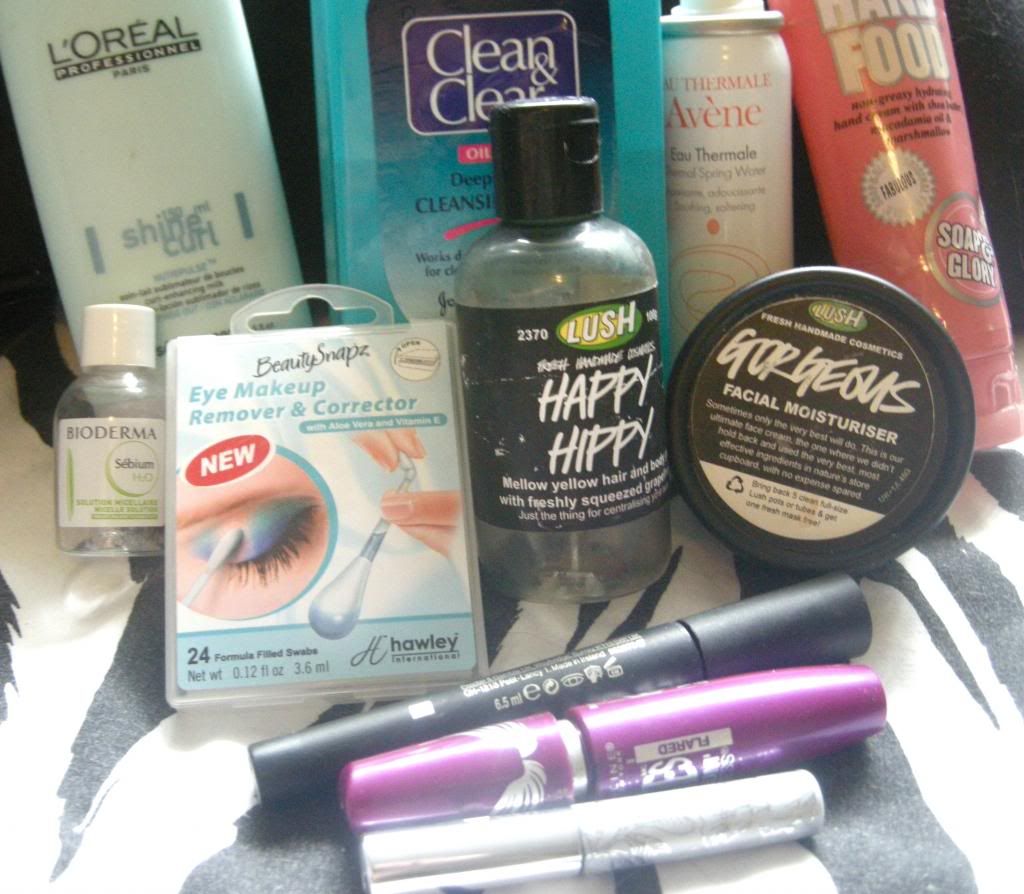 L'Oreal Professional Shine Curl Nutripulse | Clean and Clear Deep Action Cleansing Wipes | Eau Thermale Avene Thermal Spring Water | Soap & Glory Hand Food | Bioderma Sebium H2O Cleansing Water (sample) | Beauty Snapz Eye Make Up Remover & Corrector | LUSH Happy Hippy Shower Gel | LUSH Gorgeous Facial Moisturiser | Max Factor Lash Extension Effect Mascara | Maybelline Falsies Flared Mascara | Clinique Bottom Lash Mascara
Many of the products I used up have been reviewed. If this is the case, their reviews will be linked. If not, chances are I'm planning on writing a
review.
So far I have used up 11
products (I'm not
counting the Bioderma because it's only a sample) and I have 4 to go. I've cracked a couple of times but I'm only human and I have a cosmetics addiction - It was always bound to happen, right?
In saying that, however, I've decided to increase the limit to 20 products. I don't want to increase it but, given my current fails, I think it's only fair.
If you have any questions about Project Pan or the products I've used up, just comment below! I'd love to help you in any way I can.
What have you used up lately? Do you think I needed to increase my Project Pan number?
Like what you're reading? Follow me.
Got Instagram? Follow me at BornToBuy!