As you may have seen in my recent Lipstick Republic make up haul, I recently bought two Lippy Girl Vegan lipsticks; Gob Smacked and Very Vixen.
"Lippy Girl's orgasmic, oops, organic lipsticks have herbal infusions in colours that will make you look and feel fab! Our lipsticks are smooth and moisturising with a gloss finish. They will leave your lips feeling soft and sassy. The lipsticks are enhanced with the moisture of organic beeswax, as well as natural oils for organic jojoba, grape and castor seed".
- Lipstick Repbulic
Of the many lipsticks available at Lipstick Repbulic, I chose to try some from the Lippy Girl Organic Lipstick for a number of reasons. As I said in my haul, Lipstick Republic's owner recommended this product to me and I'm a sucker for a recommendation. I also liked the colour range available (Lipstick Repbulic stocks all seven shades) and, of course, they sound like such a fantastic product.
Before I get into the review, I want to give you a little insight into the brand, Lippy Girl. Lippy Girl is a Canadian cosmetic brand that makes eco friendly, natural, organic, vegetarian and animal friendly products. They aim to "prove that chemicals, animal additives and testing are not required and are completely unnecessary" (Lippy Girl)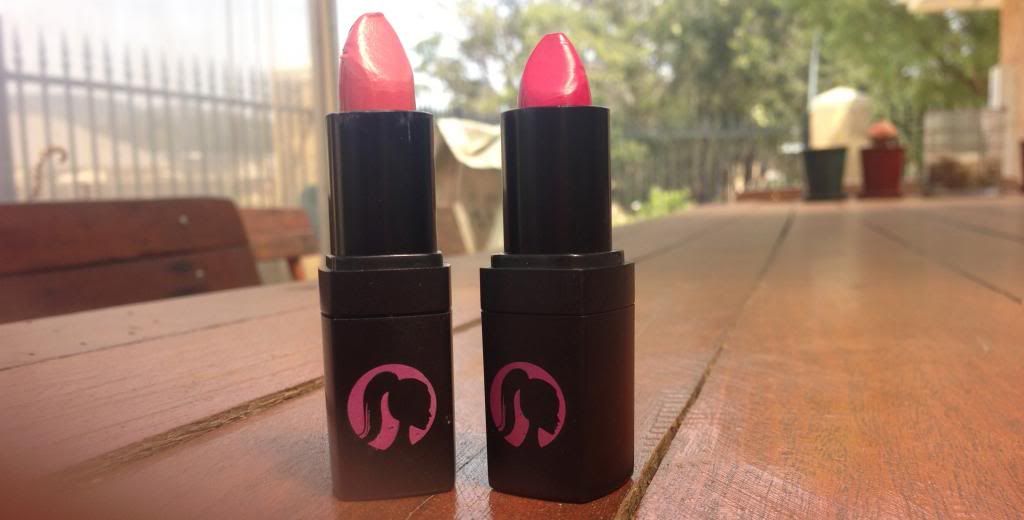 Lippy Girl Organic Lipstick in Gob Smacked | Lippy Girl Organic Lipstick in Very Vixen
Firstly, I want to apologise for not having photos of these lipsticks when applied to my lips. I intended to because I love seeing that as a reader, but my camera has failed me. My real camera won't focus on anything anymore and my iPhone wouldn't pick up the colours properly. Drats, right? Hopefully the swatches will suffice.
These lipsticks are so smooth and easy to apply. The formulation of them reminds me of a lip butter, whilst the pigmentation is much greater. The colours I chose are both fairly bright pinks, as I'm sure you can see from the images above, but I love each equally. Given the smooth consistency of these lipsticks, they don't last as long as I would hope but, when a formula is as moisturising as this, that really doesn't bother me! For a point of reference, I find myself reapplying every two-three hours which definitely isn't bad from a gloss finish lipstick.
Whilst the product itself is fantastic, I think the packaging could do with some work. It's not terrible by any means, but it definitely could be improved. The plastic isn't heavy, meaning they're great hand bag products. Unfortunately,
however, it's also somewhat flimsy. That doesn't effect the product at all, I know, but I think it's something you should all be aware of. The bottom of the packaging (where the logo is) often comes off when removing the lid. It doesn't 'fall out' by any means, so don't stress!
That's the
worst of it though so, to be honest, I'm
probably just being picky!
If you want to win two of the lipsticks, plus another product from

Lipstick Repbulic, click on the image below!
Like what you're reading? Follow me.
Got Instagram? Follow me at BornToBuy!