On Thursday I arrived home from two weeks away to find my December Lust Have It! pack waiting for me. I'm not entirely sure when it arrived (not even sure whether it was before or after Christmas), but I still thought I'd share the contents with you all.
For the first time in eight months, Lust Have It! did not package this month's pack in a cosmetics bag. Weird! Instead it came in a normal postage box.
Also, before I start this post I want to apologise for the photos. The lighting was not the best but I wanted to have this post uploaded ASAP.
I only received this box two days ago so I'm not able to review the products yet. Instead I'll type out the information provided to me so you're to gain some insight into the items. If possible, I'll also include my initial thoughts.
Catwalk by Tigi Sessions Series Finishing Hairspray - RRP $29.95 for 250mL
I received an 80mL can of this product
"Create runway looks at home with this easy-to-use high performance styling spray from this salon brand. Add shine to retro up-do's, build sexy volume or hold classic cuts firmly in place."
I have about four hair sprays open at the moment, but I will never say no to them. Hair spray is something that always comes in handy, especially these mini ones!

Baji Face Mist - RRP $18.00 for 110mL
I received a full sized sample of this product
"This gorgeous Australian brand uses pure botanical ingredients and no harsh chemicals. Use the mist to set mineral make up, as a toner between cleansing and moisturising, for an instant cool-down in the summer heat or a moisture blast in the plane or car."
I'm always apprehensive about super multi purpose products such as this one. I mean, what do they actually do?! As you know, I'm very happy with my Skincare Routine and I'm always nervous about adding products to it.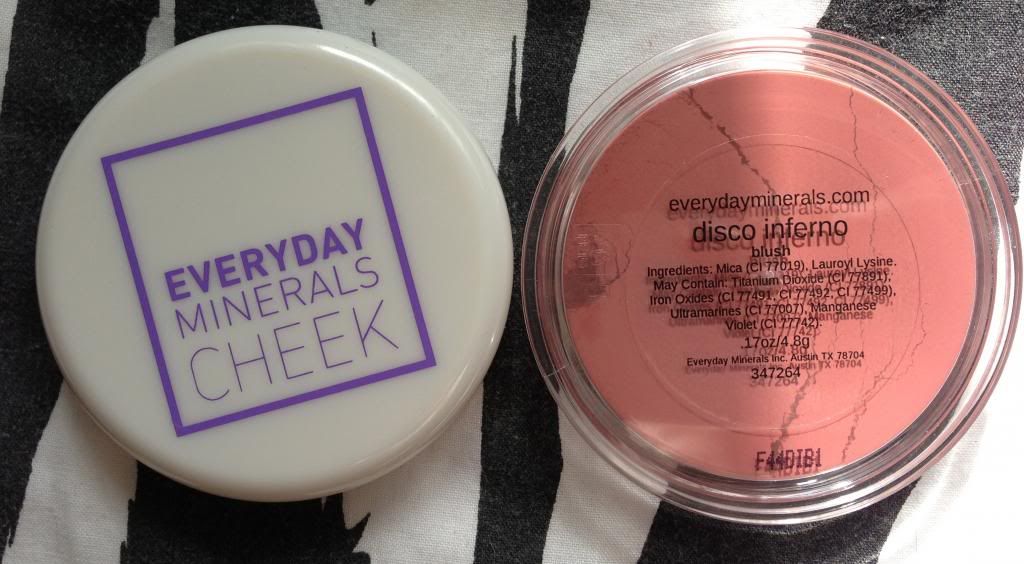 Everyday Minerals Cheek - RRP $7-13.00 (depending on the product received)
I received a full sized blush sample in Disco Inferno
"For this cool Texan brand comes a fresh, eco-friendly take on mineral makeup. Only the finest essential ingredients create heavenly shades of blush, eye shadow and base to have you fresh-faced for

summer!"
Given that this is the only cosmetic product in this month's box, I'm a little disappointed. At the same time, however, I'm also impressed. Whilst I don't think I'll wear it (I find loose blushes so messy!), I think it's a very universal colour that will work well for a lot of people. Did I just totally contradict myself? I think so.
Pelactiv Hydra Daily Defence - RRP $69.00 for 50mL
I received a full sized sample of this product
"Formulated with liposomes, vitamins A & E, seaweed extract, jojoba and avocado oils, this non-gresy formulation with firm, hydrate, soothe and detoxify skin whilst making a great make-up base!"
I know I have a bit of a skincare sample ban, I think I'm going to have to give this a try! I'm almost out of my daytime face moisturiser and this sounds great. I'll be sure to report back to you all!
Glasshouse Fragrances Hand Creme - RRP $24.95 for 140mL
I received a two x 5mL sample sachets, one in Marseille Gardenia and one in Kakadu Water Lily
"From the company that puts exceptional fragrances into exceptional products, come these delightful cremes to deeply nourish your hands. Marsielle bursts of gardenia, sandalwood and cardamon, whilst Kakadu is a floral bouquet of water lily and spring orange blossom."
Sachets of
products are so inconvenient, don't you think? Things get so messy! I'll probably give these a try, however. That or I'll include them as samples when I host my blog sale.
I received one exfoliating glove
"This re-usable glove polishes skin, removes dead cells, old fake tan and more! Use damp on wet skin, 1-2 times a week, in upward strokes to reveal softer, fresher skin. Rinse and dry glove well between uses."
I don't have a whole lot to say about this product, other than it will come in handy!
Lastly, this isn't featured on the card, but I received a 1.2mL sample of Marc Jacobs' Daisy perfume.
I don't know how I feel about this decision yet, but I have unsubscribed to Lust Have It! My contract at work ended recently and it makes sense to cut back on purchases I don't need. Bye bye, Lust Have It!. I hope to see you when I'm employed again!
With this as my last pack, what do you think of it? Did you receive similar contents?
Like what you're reading? Follow me.
Got Instagram? Follow me at BornToBuy!