This month I've really loved pinks and corals for the eyes, lips, cheeks and nails. I know it sound ridiculous but please bear with me. It's not as terrible as it seems!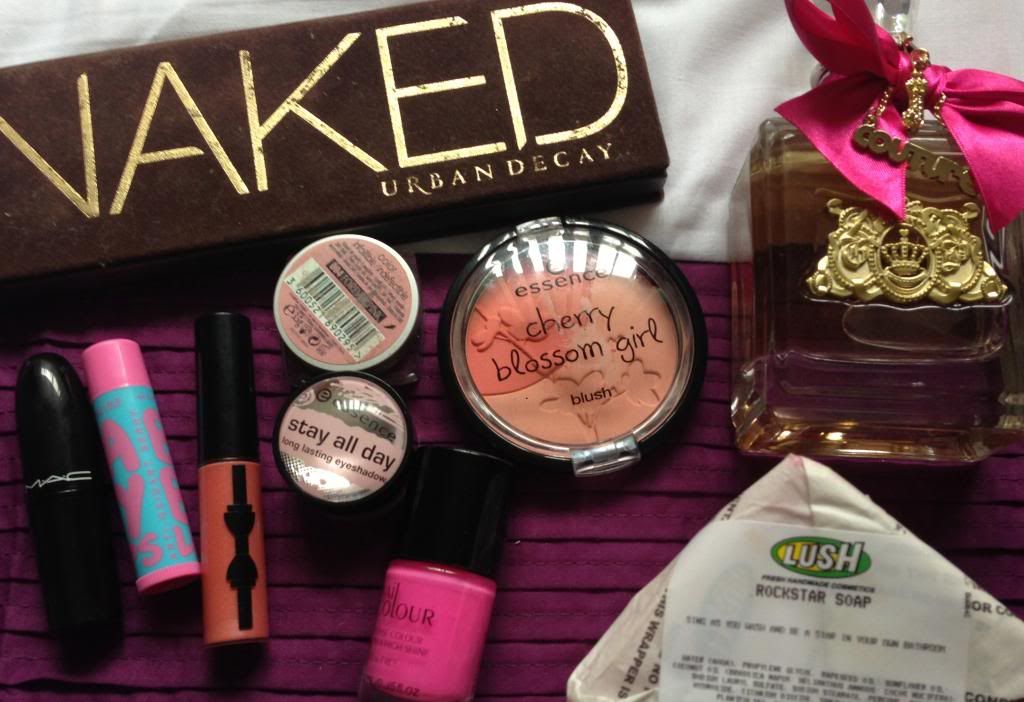 This month I don't think I created an eye look without using my Urban Decay Naked Palette. I took this palette away with me (click here to see what I took away) and was so impressed with it. Whilst I've always liked it, I never really understood the hype surrounding it.
As I said, I've been loving pink eyeshadows lately. I used to think such colours would make me look like I had pink eye but I've found that no, they actually do not. From my Urban Decay Naked palette I found that Virgin, Sin, Toasted and Darkhorse make the most beautiful pink toned eye, especially when Naked and/or Buck is blended into the crease.
Another pink eyeshadow I used constantly in January is L'Oreal Infallible's Forever Pink.
My Essence Stay All Day Long Lasting Eyeshadow in #09 For Fairies is the most beautiful cream eyeshadow, especially when applied under the eyeshadows mentioned above. To go with the theme, of course, it's a pink toned base.
I've used the
Essence Cherry Blossom Girl Blush in #01 Asian Sensation almost every day since purchasing it. I really like the colour pay off and the natural flush of colour plus glow that it provides.
I'm sure it's no surprise that the Maybelline Baby Lips in Anti-Oxidant Berry is in my monthly favourites. It's my favourite lip balm and has been so for a long time now. I'm probably on my 8th tube.. I kid you not.
The two lip products in the MAC Divine Desire Face Kit in Quite Coral are so beautiful, both alone and together. The lipstick in In a Heartbeat, a light coral, and the lipglass in Pure Flattery, a peachy pink with pearlized pigments, are perfect for this time of year!
Australis Totesamaze is one of the best nail polish colours I've ever found, even if the name is ridiculous. I wore this polish a lot in January. In fact, I'm wearing it right now!
Whilst I always love LUSH's soap in Rockstar, I've been loving it even more lately. The smell is so delicious. I wish LUSH would use this fragrance to make everything; soap, body mist, perfume, candles, room spray. Doesn't that sound amazing?
Lastly is perfume. My perfume favourite hasn't changed and, to be honest, I doubt it will! Juicy Couture's Viva La Juicy smells
absolutely amazing and I don't think there'll ever be a time where I don't LOVE it.
What have you been loving this month? Do you shy away from red toned eyeshadows for fear of pink eye?
Like what you're reading? Follow me.
Got Instagram? Follow me at BornToBuy!