I haven't done a Gift Guide this holiday season because, to be honest, I didn't have that many ideas this year. In the past week or two I've found some great bargains, but it seems a bit late. Instead I want to show you what I'll be giving this Christmas.
Peta, Carly, Mum, Mario, Tim, Amy or Remy, please exit this post now! I don't want you seeing what I got you.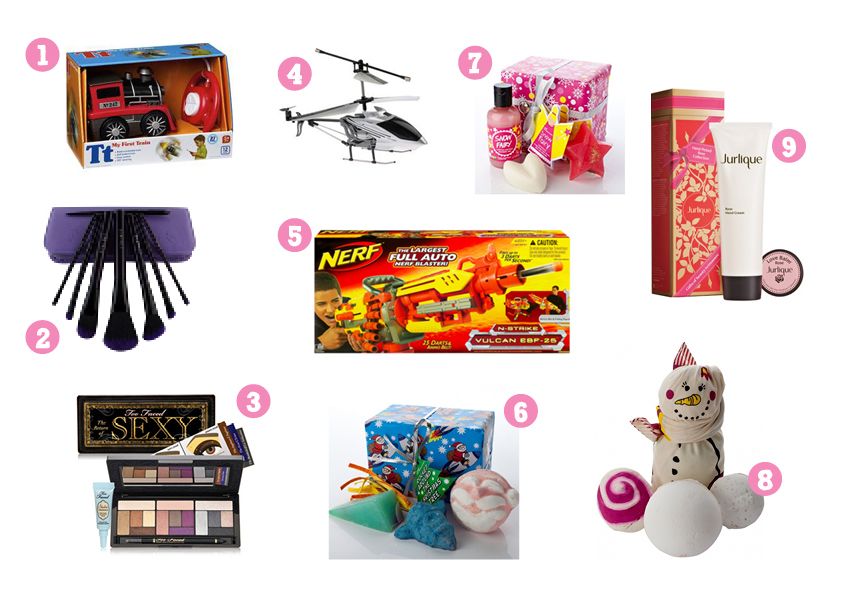 **All images retrieved from the sites linked below
1. My First Remote Control Train - $20.00 from KMart
2. Furless Purple Power Make Up Brush Set - $49.99 from Furless
4. Remote Control Helicopter Control with iPhone, iPod Touch or iPad - $39.99 from Malebox
5. Nerf Gun - Assorted prices. Two pack at KMart for $20.00
6. Rocket Around The Tree Gift Set - $19.95 from LUSH
7. Snow Fairy Gift Set - $22.95 from LUSH
8. Jurlique Hand Picked Rose 2 Piece Collection - $38.95 from BeautyBay, $48.99 from Jurlique and $49.00 from Myer
9. Mrs Frosty From LUSH - $19.95 from LUSH
That's a majority of the presents I've bought and will be gifting this Christmas. I still have one sister to buy for, as well as a brother in law and half of my nephew's Christmas present.
I have absolutely no idea what to get said sister, aged 25, so I'd love your suggestions! Also, what are you getting this Christmas? Have you forgotten to buy something for someone? That's okay! I have a Last Minute Gift Guide coming soon!
Like what you're reading? Follow me.
Got Instagram? Follow me at BornToBuy!