I set myself a Project Pan challenge in on October 19 (to see the full post, click here), meaning that I had to use up 15 beauty products (haircare, skincare, cosmetics etc) before I was allowed to purchase any more. Before I get into what I've used up, here are the rules I set for myself.
To include a product in the fifteen I must have used it up completely. Some people say cosmetics can be counted once someone 'hits pan' but that seems pointless to me

Products will be included unless I need to repurchase it and my skincare routine will not be compromised, however I may give other products I own a try after finishing my current products (I did a lot of this, using samples and random products in an attempt to not repurchase my skincare staples)

Hair products, unless they are essentials that I feel must replaced, are counted

Nail products are counted

I have managed to accumulate a ridiculous amount of body stuff, so soaps, body wash and anything else body related will count

If I find myself trying a new product that is breaking me out or giving me a reaction etc., I will stop using it and the product won't be counted

If I finish a product and feel that I don't have a replacement in my collection I can repurchase it and the product won't be counted

Blog purchases (including giveaways and products purchased by request to review) are not included

Ridiculous bargains and/or limited edition products do not count

I will continue to receive my Lust Have It! and Bella Box subscriptions

Products sent to me for review on my blog are not included in the sense that they are not purchases
I set myself this challenge to use products in my collection. Where I could, I replaced an empty product with something else in my collection so that the product could be counted.
So let's get into what I've used up!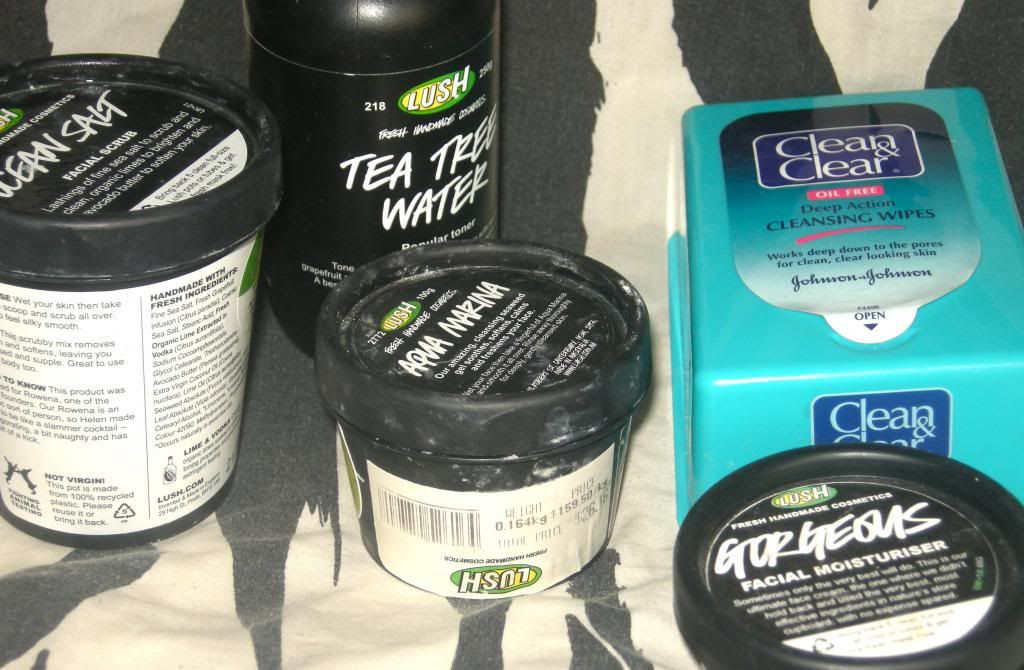 LUSH Ocean Salt 250g | LUSH Tea Tree Water 250g | LUSH Aqua Marina 100g | LUSH Gorgeous Facial Moisturiser | Clean & Clear Deep Action Cleansing Wipes
I'm sure you'll recognise Ocean Salt, Tea Tree Water and Aqua Marina from my Skincare Routine. When I finished Ocean Salt and Aqua Marina, I started using other cleansers in my collection. I have since repurchased them as my skin broke out with all the changes, so I don't really know whether I can count them. What do you think?
I had another bottle of Tea Tree Water so that's fine.
As far as my moisturiser goes, I've been using a Clean & Clear's Pimple Control Moisturiser
from their Advance Pimple Control Kit. It's a great, matte moisturiser that is perfect for that daytime. Lastly, the
Clean & Clear Deep Action Cleansing Wipes have been a new addition to my routine and I really enjoyed using them. Facial wipes aren't a necessity for me so I won't be repurchasing them in a hurry.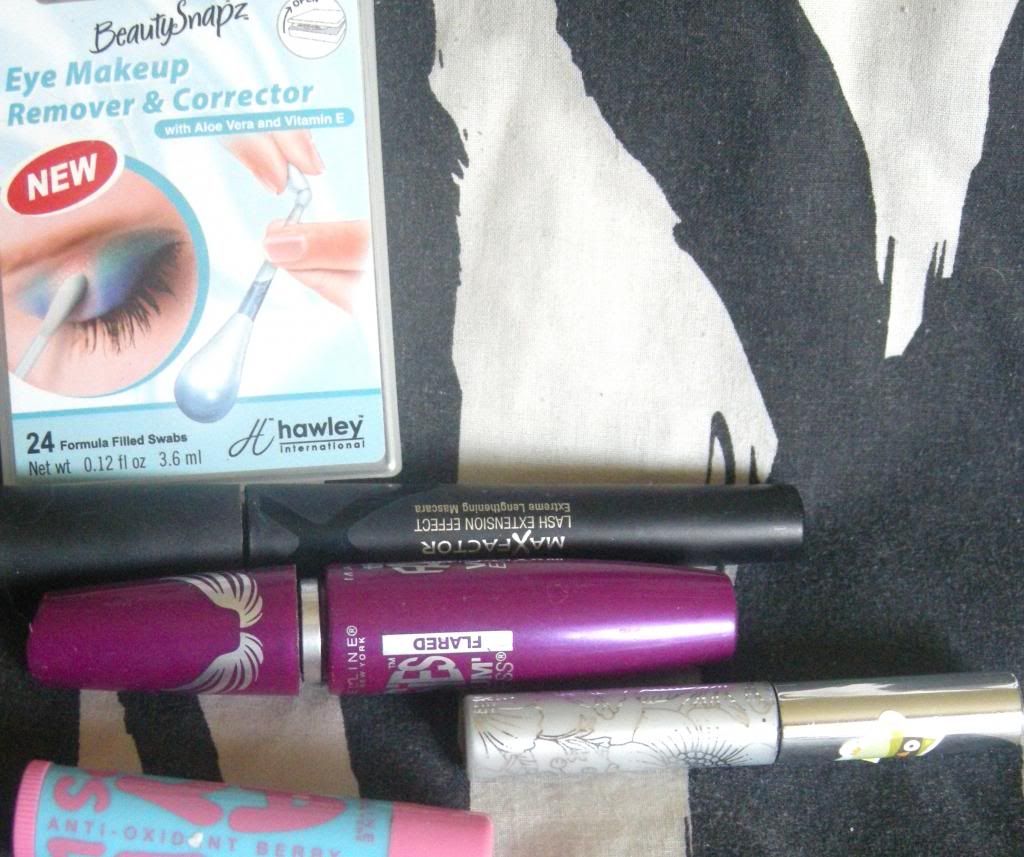 Beauty Snapz Eye Make Up Remover & Corrector | Max Factor Lash Extension Effect Mascara in Black | Maybelline The Falsies Flared Mascara in Black | Clinique Bottom Lash Mascara in Black | Maybelline Baby Lips
Whilst the Beauty Snapz were handy, I don't miss them and I won't be repurchasing them. I found they sometimes made more mess than they cleaned.
I'm not going to say anything about Max Factor's Lash Extension Effect or Clinique Bottom Lash Mascara. They've both featured in multiple favourites posts and have both been reviewed. I have multiple of each product so they will not technically be repurchased.
The Maybelline Falsies Flared mascara surprised me. I've never been a fan of Maybelline mascaras so I didn't expect to like this one. Whilst I enjoyed using it, I won't be repurchasing it because I have a stash of mascaras to be used up.
Maybelline's Baby Lips is a staple product for me. I don't go anywhere without this lip balm and I'll often buy three when Maybelline is having a 3 for 2 promotion. Given that I have one more Maybelline Baby Lips in my drawer, plus a few other lip balms, I decided to include this.
So that's everything I've used up. There's 10 products there, including the Ocean Salt and Aqua Marina. I need your help though. Please read the rules above and help me decide whether Ocean Salt and Aqua Marina can be included or not. Initially they were to be because they weren't going to be repurchased, however nothing compares so I ended up giving in. You be the judge!
Like what you're reading? Follow me.
Got Instagram? Follow me at BornToBuy!