As I'm sure you've seen from my Christmas Giveaway and Christmas Look #1, I've really been getting into the Christmas lately. I've done all my Christmas shopping bar three people and, now that I have my Christmas Day plans sorted, it's beginning to feel like the season to be jolly!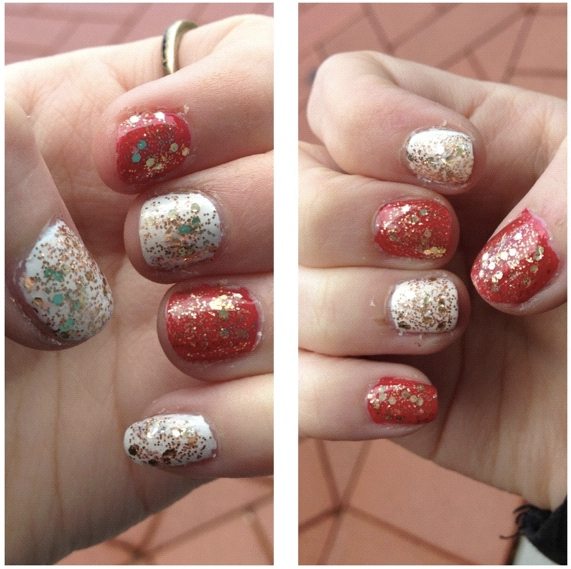 Image from my Instagram. Follow me @ Borntobuy
To get into the Christmas spirit this week I decided to give myself a festive manicure. Whilst I think this look would have looked great with a green polish as well, I definitely don't think it was necessary. Keep reading to see the nail polishes used.
Base Coat: Sally Hansen Miracle Cure for Severe Problem Nails | White Polish: Sally Hansen Hard as Nails Xtreme Wear in White On | Red Polish: Essence Show Your Feet Toe Nail Polish in Kiss of the Mermaid | Gold Glitter: Essence Snow White Special Effect Topper in #02 The Huntsman | Top Coat: Sally Hansen Diamond Flash Fast Dry Top Coat
I really like this nail look. It's not something I'm used to but it's definitely made me like glitter nails more. I couldn't decide which colour I wanted to be on three nails so I decided it was only fair to alternate on each hand. Before I added the glitter I thought it looked a little odd, so I'm really glad it tied the nails together nicely.
I got a lot of compliments on this nail look too. Bonus!
What do you think of it? Have you been getting your nails in the Christmas spirit? Tweet or Instagram me a pic!
Like what you're reading? Follow me.
Got Instagram? Follow me at BornToBuy!