Two Fridays ago I had a long overdue meet up with some friends I studied with. Given that we all live in opposite sides of Perth, we decided to meet in the city as it was the most central and easily accessible.
I don't head into the city much because I spend too much, but it was great timing for me. I used the last of my Aqua Marina and Ocean Salt about two weeks ago, and was 'getting by' with skincare samples. Needless to say, my skin is going crazy and I'm so glad to be back to my normal skincare routine. Whilst I was there I started my Christmas shopping and picked up a bunch of gifts.
Want to see what I bought from LUSH, as well as my single purchase from Colette by Colette Hayman? Keep reading!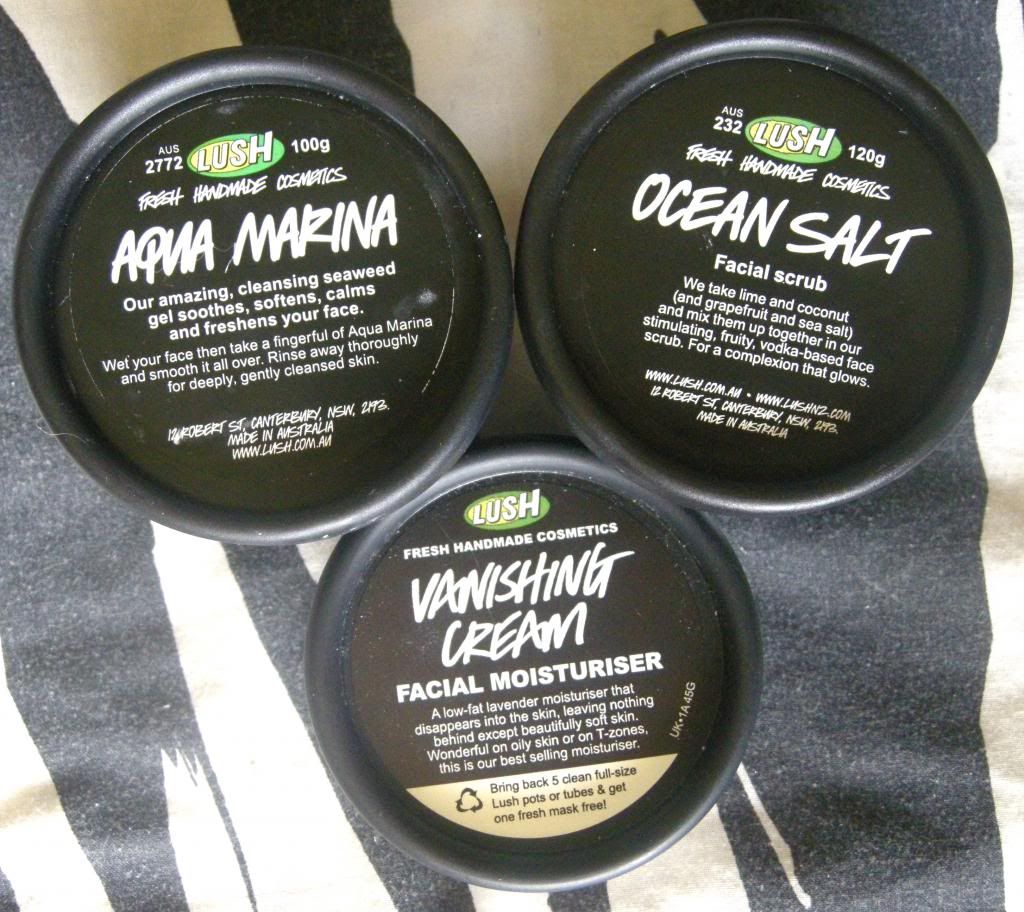 Aqua Marina 100g $15.95 | Ocean Salt 120g $20.95 | Vanishing Cream 45g $39.95
These products are all a part of my every day skincare routine and I'd completely run out of them all. My face can't get enough of it at the moment and, after over two weeks without LUSH products, it's finally talking to me again.
Snow Fairy Gift Set - $22.95
Snow Fairy Shower Gel 100g | Shimmy Shimmy Glitter Bar | Angel's Delight Soap 70g (in a
star mould)
This gift pack was bought for my 9 year old cousin. You may remember that I bought her and her little sister small gifts from LUSH earlier this just just because I could (click here for haul). She loves LUSH (well, what I've given her to try) so this will be a great Christmas present for her.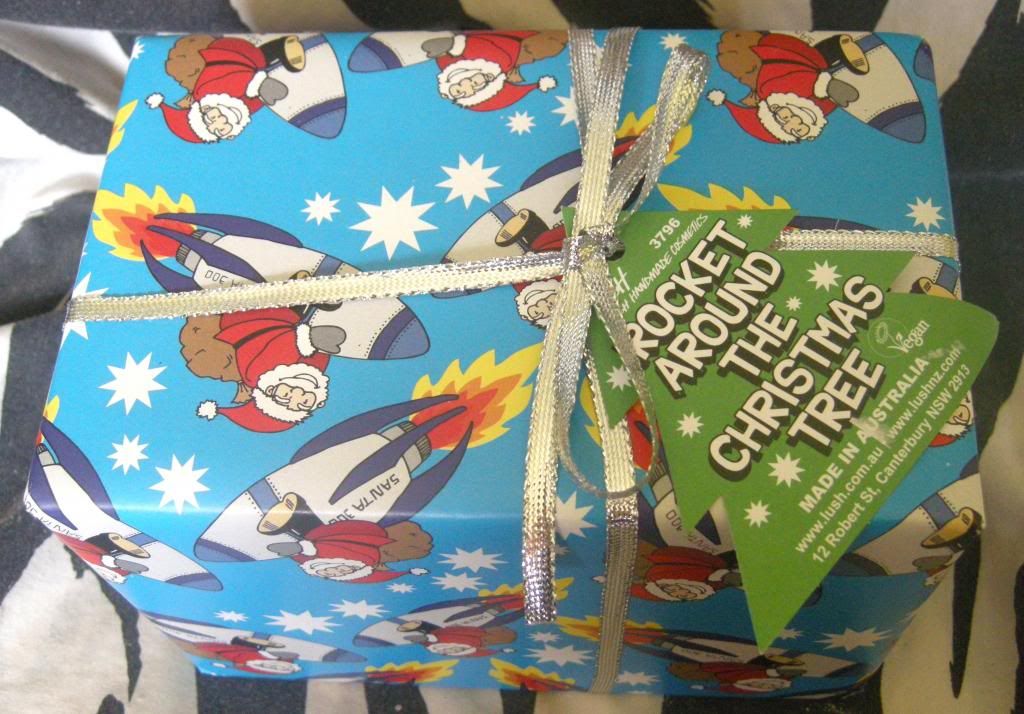 Rocket Around The Christmas Tree - $19.95
Rocket reusable bubble bar | Father Christmas Bath Ballistic | Snowglobe Soap 100g
This gift pack was bought for the above girl's little sister, aged 7. Once again, through my influence she is a big LUSH fan and I'm sure she'll love this. I considered buying her the House of Fun gift instead, however it contained an fourth product and I wanted the number of products to be equal so there was no fighting.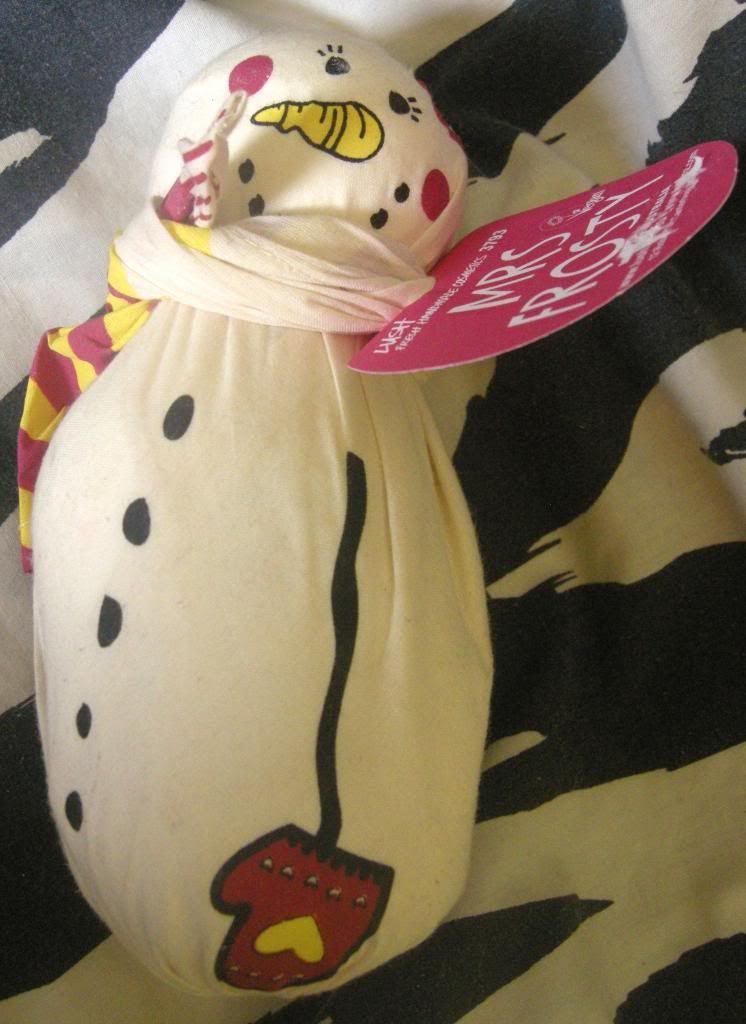 Butterball Bath Ballistic | So White Bath Ballistic | The Comforter Bubble Bar (small 100g size)
I bought this for a friend of mine. She's a big fan of LUSH, especially their bath products. In saying that, however, I didn't want to have the tough decision of choosing which products to buy for her. I think this set is so cute, and I love the fact she's packaged in a reusable knot wrap, so I hope the recipient of this likes it!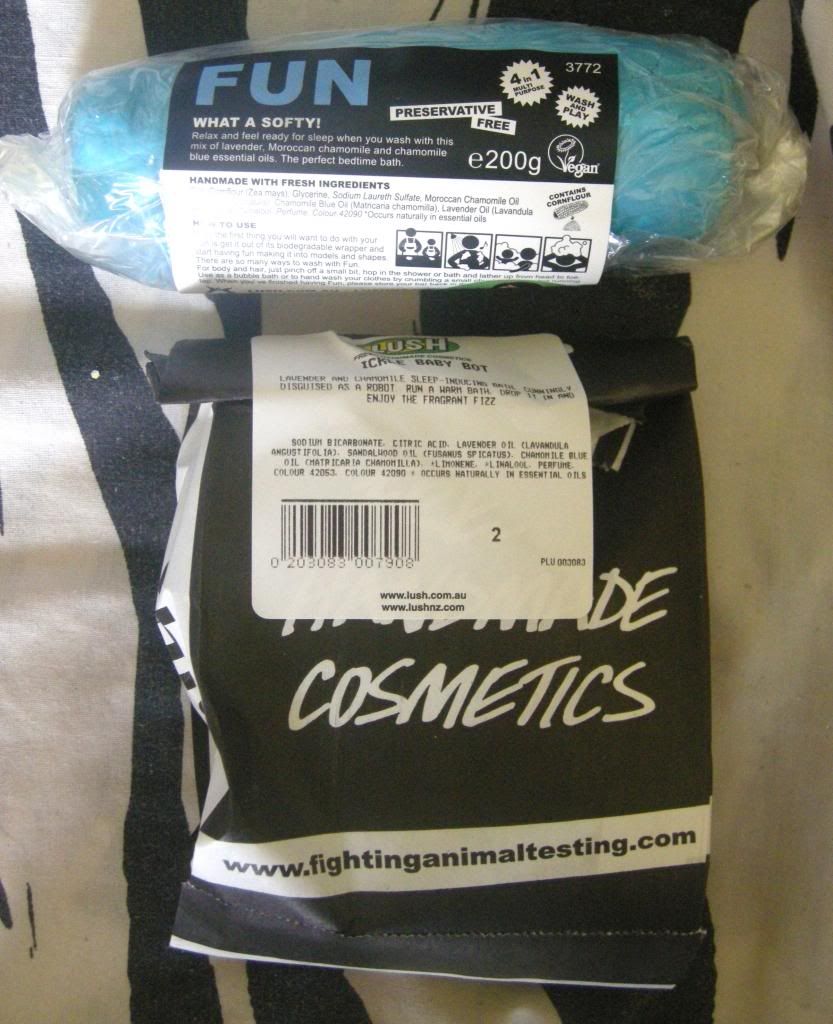 Fun Blue (lavendar scent) | Ickle Baby Bot
LUSH Fun is a bizarre, mouldable product that can be used as a modelling clay, bath soap, shampoo and bubble bath (I think). I bought this for Alex (my nephew) who, at two and a half years of age, loves to make a mess. This will be a part of Alex's Christmas present.
The two Ickle Baby Bot bath ballistics were bought for a little girl for Christmas. I don't have a lot to do with her, but I wanted to give her something small and these are the perfect gift for a little 'un.
After LUSH, we headed to Colette by Colette Hayman (previously known as Colette or Colette Accessories). There's one thing you may not know about me, I'm a wallet destroyer. It's not that I don't take care of my wallets, I just have a lot of cards. In time, my excessive collection of cards stretches wallets, meaning they won't close etc. I was in that market for a new wallet because, once again, mine died and I fell in love with this.
I bought the Zoe Striped Wallet in Coral for $29.95. This is a big wallet. It's big and spacious and I honestly think it'll take a lot to kill this bad boy. As you can see from the image, it has a turn lock to secure it, meaning nothing can escape. The wallet also has 12 card pockets, a zip compartment for coins, 4 slip pockets and a full length note compartment. I hate it when my notes don't fit in my wallet properly.
What have you bought lately? Have you started your Christmas shopping? Who else has so many cards that they're a wallet murderer?
Like what you're reading? Follow me.
Got Instagram? Follow me at BornToBuy!