Just when you think you've done all your Christmas shopping, there's always that one person you remember you have to buy for or that person that's told you they bought you a present, even when you didn't intend on buying them anything. Cue frantic shopping.
Don't stress! I
've created a list of 12 presents that I think would be great last minute gifts, most of which can be bought in Australia.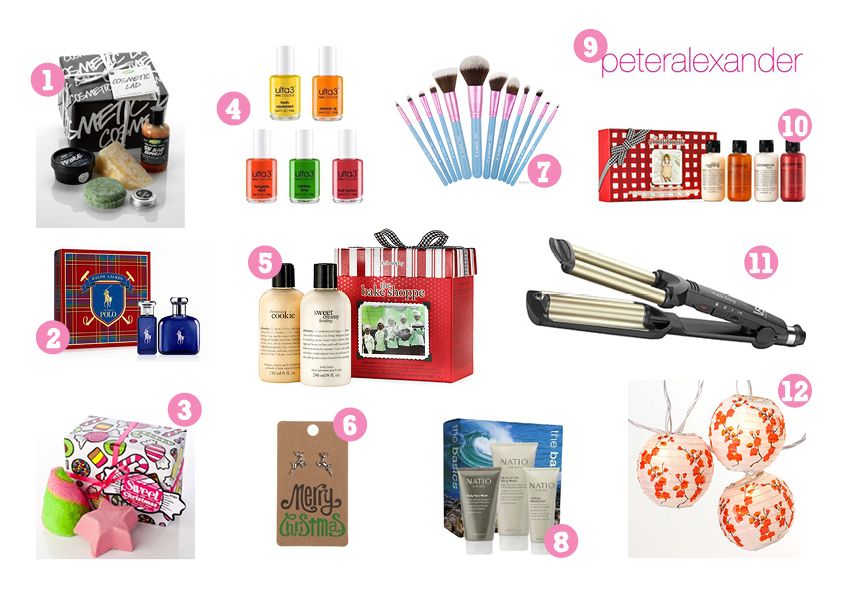 **All images retrieved from the sites linked below
Mr little bit of everything: 1. Cosmetic Lad Gift - $41.95 from LUSH
Mr Sauve: 2. Ralph Lauren Polo Blue EDT Set - $99.00 from MYER
Small gift: 3. Sweet Christmas - $10.95 from LUSH
Stocking Stuffer: 4. Ulta3 Nail Polish - $2.00 from Terry White
Mrs Bath Time: 5. Philosophy The Bake Shoppe - $30.00 from David Jones
Secret Santa: 6. Lovisa Christmas Earrings - $6.99 - $20.00 from Lovisa
Mrs Make Up: 7. Sigma Mrs Bunny Essential Kit - $120.00 from Sigma
Mr Man: 8. NATIO Mens the Basics Pack - $19.95 from MYER
Mr/Mrs Has Everything: 9. Peter Alexander Pyjamas - Different prices available from Peter Alexander
Need four small gifts: 10. Philosophy The Cookbook - $40.00 from MYER
Mrs Hair Lover: 11. VS Sassoon Wave Envy Styler - $44.95 from MYER
EVERYONE: 12. Typo Lanterns- $19.95 from Typo
T
hese are just the last minute ideas I have. A lot of these ideas can be quite generic and given to anyone (Peter Alexander pyjamas, anyone?). Others on the list can be split up and given to different people such as the Philosophy The Cookbook shower gel.
Another great idea? Subscriptions, the gift the keeps on giving. Lust Have It! and BellaBox both have beauty
subscriptions and male grooming boxes. Mirenesse has a selection of fantastic packs too, with one dedicated solely to make up
(I just subscribed, actually!). Magazine are also a great subscription, especially if you know the magazine the receiver loves.
Do you have any other last minute Christmas gift ideas, especially for last minute presents? I'd love to hear them! I always
think there's someone I've forgotten. What will you be keeping as back up?
Like what you're reading? Follow me.
Got Instagram? Follow me at BornToBuy!