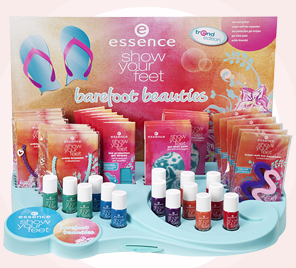 With the Australian summer comes hot days and, of course, thongs and bare feet. This year, let's get your feet into tip top shape and show them off!
"Temperatures are rising and we're getting into a super-barefoot-summer mood! Do that nothing can spoilt our jotous anticipation at being reunited with our flip-flots, peep toes & sandals, the Essence Show Your Feet Trend Edition 'Barefoot Beauties' presents a special product collection to highlight your gorgeous feet, nails and legs in January and February 2013. Practical beauty helpers make winter feel look pampered, fresh and stylish again in a flash!"
That sounds great, doesn't it? Let's get into it!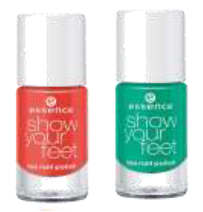 Toe Nail Polish
"Spring evokes a passion for color, color, color! So the motto of barefoot beauties is of course: color your nails! Green? Violet? Blue? Coral or Red? With five bright colors that offer your toe nails fabulous coverage and long-lasting style, the ultimate summer feeling is only a brush- stroke away! Available in 21 Purple Party, 22 Green Lagoon, 23 Underwater Love, 24 Coral Me Beautiful and 25 Kiss of the Mermaid. RRP- $3.95"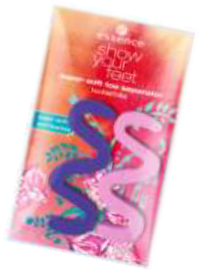 Super-Soft Toe Separator
"If you change the color of your toe nails often, you probably like to do it comfortably and
quick. So it's great news that there are super-soft toe separators by essence! The soft material ideally adapts to the shape of your toes, separates them perfectly and makes applying nail polish super easy. A perfect little helper for the most gorgeous accessory of the summer 2012! RRP- $2.29"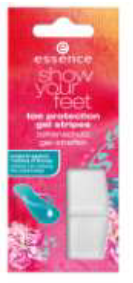 Toe Protection Gel Strips
"Flip-flop lovers take note: from now on, you can say goodbye to that pesky ache between your toes when you wear a new pair! These practical transparent gel stripes by essence are shaped in such a way that they are almost invisible but are still ultra-effective. No chaffing, no pressure points – simply fix the sticky side of the strip around the toe- strap and get the summer party started! RRP- $4.95"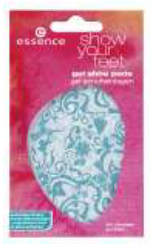 Gel Shoe Pads
"Mega high-heels don't have to stress your feet if you have the right little helpers! The transparent, super soft gel shoe pads by essence offer your feet added grip and relief. Aching feet, pressure points and blisters? Not with essence! Special massage points even provide comfort on 12cm heels – for hours and hours! Party nights? Let's dance! And here's how: place the gel pad in your shoe with the tip facing the heel, press lightly and you're done! For repeated application, simply rinse under clear water and place in the next pair of high-heels that you want to show off! In a summery flower design. RRP- $5.95"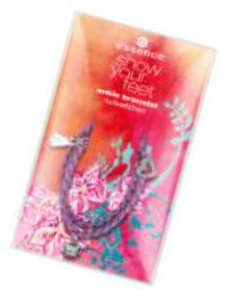 Ankle Bracelet
"This cute ankle bracelet by essence sets colorful accents on your ankle with its enticing turquoise or violet shades and Mediterranean pendants and pearls. A stylish finishing touch for all barefoot beauties! RRP- $5.95"
The Essence Barefoot Beauties Show Your Feet Trend Edition will be available in Target and Priceline stores in January and February.
**
Please be aware:
This product was sent me for review, however all opinions are my own. I was not paid for this review.
Do you like the products featured in this post? Easy! Check out my Christmas Giveaway for your chance to win them (excluding the Toe Nail Polishes). Goodluck!
Like what you're reading? Follow me.
Got Instagram? Follow me at BornToBuy!