Lately I've been into things that make my room smell pretty. I've never been into candles and melts (if I'm being completely honest, it's because I hate matches) but a friend of mine gifted me some beautiful melts and I've been hooked ever since.
Quick Tip: For anyone else who has an unnatural phobia of matches and lighting candles, the Dusk Turbo Lighter is for you!
When I saw that Saucy Sweethearts, a favourite online store of mine, were stocking candles and melts I was so excited and I HAD to get some.
Last week I picked up all four of the Grumpy Girl Travel Tin Candles and, at $6.50 each, I think I got a total bargain!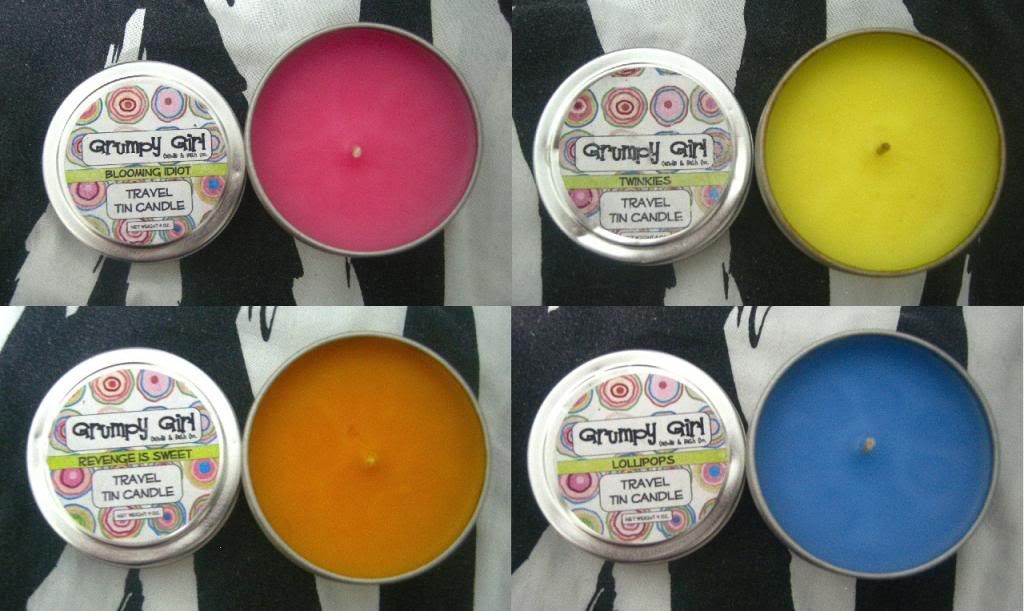 Top: Blooming Idiot and Twinkies
Bottom: Revenge Is Sweet and Lollipops
Grumpy Girl Travel Tin Candles are available in the
following scents
Blooming Idiot:

Sweet notes of bartlett pear, apricot, white peach and plum blossom with fresh notes of mimosa and spring air.

Twinkies:

Just like the real thing. Rich, moist and buttery yellow cake with sweet creamy vanilla filling

Revenge Is Sweet:

Fruit salad of orange, strawberry, apple and grapes; sprinkled with shaved coconuts

Lollipops:

Berries and mixed fruit with notes of sweet spun sugar on a stick. Just like the real thing

(This candle smells EXACTLY like Fruit Tingles, mmm!)
These candles all smell absolutely incredible and I'm so glad I bought all four, especially because I'm so terrible at imagining what scents really smell like.
Lastly, I bought a Cleanse Your Soul Manicure Set in the scent Twilight Woods (this fragrance combines the scent of ripe forest berries and soft sensual musk, with middle notes of sweet mimosa flowers and apricots, along with subtle hints of oak and juniper).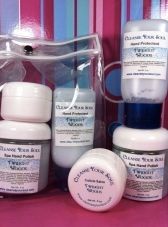 Cleanse Your Soul Manicure Set in Twilight Woods
This Manicure Set contains a 4 oz. Spa Hand Polish, 2 oz. Hand Protectant and Cuticle Salve. My cuticles are in terrible condition at the moment so hopefully this is a little like hand rehab for me! This set was $16.00.
I know I've said all of these products were for me but, well, I lied! Some of them will be featuring in my upcoming Christmas giveaway (to be uploaded on November 25). I'm not telling you what though, you'll have to wait and see!
Use the Discount Code BORN2BUY to receive 10% off any order with Saucy Sweethearts at www.saucysweethearts.com.au!
**I do not receive any financial gain if people use this Discount Code.
So, everyone, that's my Saucy Sweethearts haul and, let me tell you, it was $42.00 well spent! Now, tell me - What products are you hoping will feature in the giveaway? I'd love to hear your thoughts. Also, what do you think of the products I got? Comment below!
Like what you're reading? Follow me.
Got Instagram? Follow me at BornToBuy!