A month or so ago I was sent a selection of products from Crush Cosmetics, an online Australian store selling brands such as E.L.F., NYX, Barry M, NYX and more! Not only does it sell products at a fantastic price, many of the brands they sell aren't readily available in Australia.
SOURCE
Left to Right: NYX Jumbo Eye Pencil in Iced Mocha and Milk
For me, NYX Jumbo Eye Pencils can be categorised with NARS Laguna Bronzer and the Urban Decay Naked Palette; they are one of those products that every guru talks about. When Crush Cosmetics asked which products I'd like to try, I jumped at the chance to try a couple of the NYX Jumbo Eye Pencils. Whilst it was difficult to decide which colours I wanted to try the most, I decided on the two that I've heard the most about, Milk and Iced Mocha.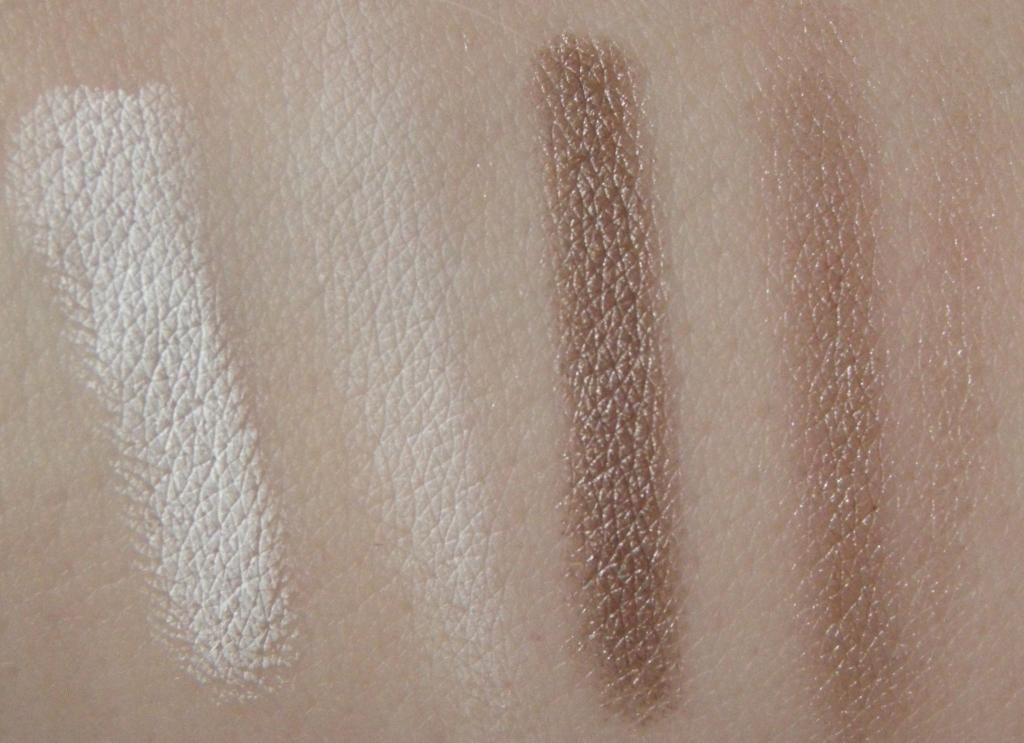 Left to Right: Milk swatched, Milk blended, Iced Mocha and Iced Mocha blended
Milk is a true white colour with no shimmer. It makes the best inner corner or brow bone highlight, especially when blended into the skin with a finger tip (I find the warmth blends it seamlessly). As with most white liners, it also brightens up the eye when applied to the waterline. When applied all over the eyelid as an eyeshadow base, this NYX Jumbo Eye Pencil enhances and intensifies any eyeshadow look.
Iced Mocha is described by NYX as a 'frosty deep bronze'. This colour makes a great lid colour. To build up and intensify the colour, I will sometimes use this under my Inglot Eyeshadow in #402 (swatch here). I often use this pencil alone, however, when I'm short on time or feeling a bit lazy. When drawn over the lid and blended with a finger or brush, Iced Mocha provide a beautiful bronze wash of colour. The point on this pencil also makes it great for applying colour and product to the lower lash line; it's as easy as just drawing it on.
Whilst some people say that they find the NYX Jumbo Eye Pencils crease on their eyelids, I have not found that this is an issue for me. Whilst the colour may fade if it's not set with a powder (even translucent works well if you want to keep the colour), I haven't ever found that they crease.
I would definitely recommend the NYX Jumbo Eye Pencils and I have two more on my shopping list, Cashmere and Sparkling Nude.
I've never seen NYX products in store in Australia, however they can be purchased from Crush Cosmetics for $6.70. So cheap! While you're there, why not check out the other fantastic products they have for sale?
Also, are you a qualified make up artist or beauty professional? Apply for Crush Cosmetics Professional Discount! Make up artists, beauty professionals, pharmacies, beauty spas and other fashion outlets are eligible to receive a 15% discount. For more information, or to apply, click here!
**
Please be aware:
This product was sent me for review, however all opinions are my own. I was not paid for this review.
Like what you're reading? Follow me.
Got Instagram? Follow me at BornToBuy!