On Monday I came home from work to find my Lust Have It! pack waiting for me. This pack contains a selection of products that have been selected to help us get ready for summer parties! Sounds good.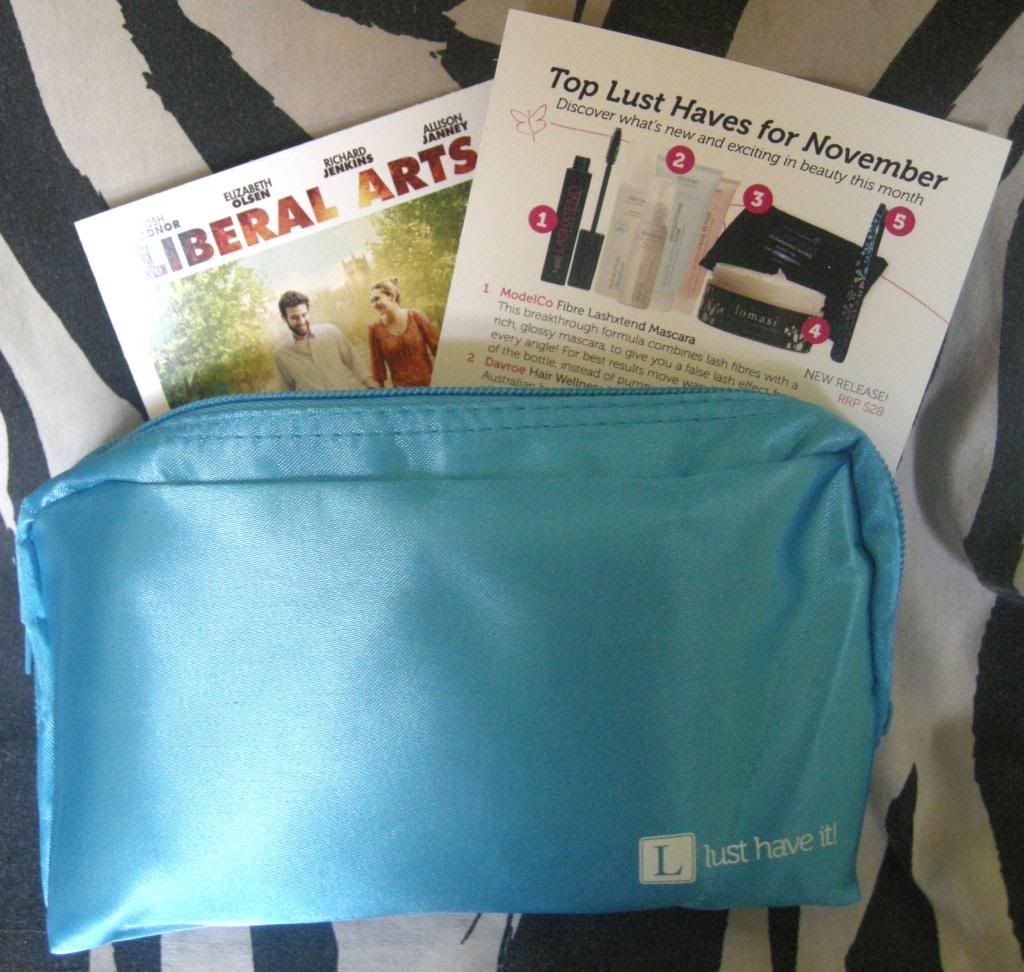 Since April of this year (click here to see April's pack), Lust Have It! have been packaging the contents of their packs in bright colour cosmetics bags. As stated on the information card in the bag, this is the last month that subscribers will be receiving 'pop-colour make up bags'. Next month, apparently, we'll be introduced to new collectible packaging. I can't wait to see what it is!
I only received this box two days ago so I'm not able to review the products yet. Instead I'll type out the information provided to me so you're able to get some insight into the items. If possible, I'll also include my initial thoughts.

ModelCo Fibre Lashxtend Mascara - RRP $28.00
I received a full sized sample of this product
"This breakthrough formula combines lash fibres with a rich, glossy mascara, to give you a false lash effect from every angle! For best results move wand around the sides of the bottle, instead of pumping, before applying."
The overview of the pack suggests that this is a new product that isn't available in Australia yet, so that's really exciting! I'm not sure if I like the look of fibre mascaras but I'll be sure to give it a try when I finish Project Pan.

Davroe Colour Senses End Repair - RRP $9.95 for 50mL or $19.95 for 125mL
I received a 50mL tube of this product
"Australian brand Davroe has created a beautiful collection of naturally based, professional hair care and styling products to make every hair type look and feel its best.

"
There were a few different products that people could have received in their packs so the information on the card isn't reflective of the actual product. I think it will be a great product though, especially on my colour damaged hair, so I'll read up on it a bit more and give it a try.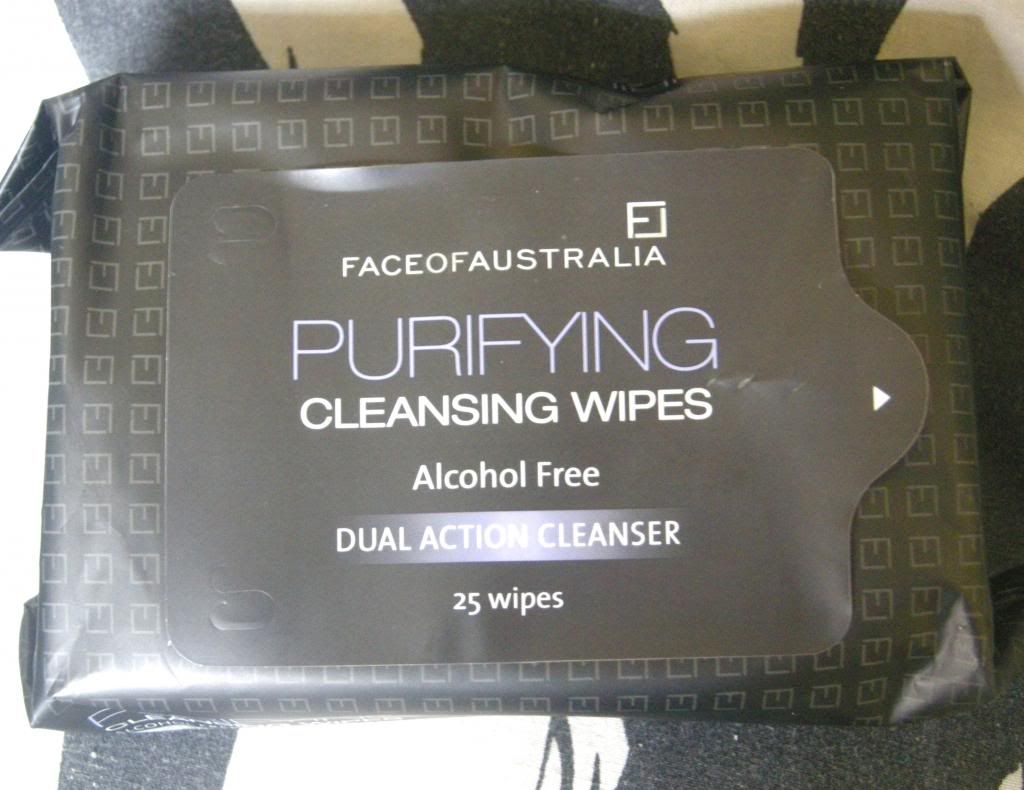 Face of Australia Purifying Cleansing Wipes - RRP $4.95 for 25 wipes
I received a full sized packet
"Celebrate Australian beauty and join thousands of women who have added Face of Australia to their daily beauty routine. Containing dual action cleansers, these alcohol free wipes remove the toughest of make up while purifying the skin.

"
I have a bad luck with make up wipes (they often break me out) so I find that I'm a little apprehensive to try them. With that in mind, however, I tried these for the first time yesterday and I really liked them! I've used one more since and, as of yet, there doesn't appear to be any break outs. My only which is that they were a little more moist.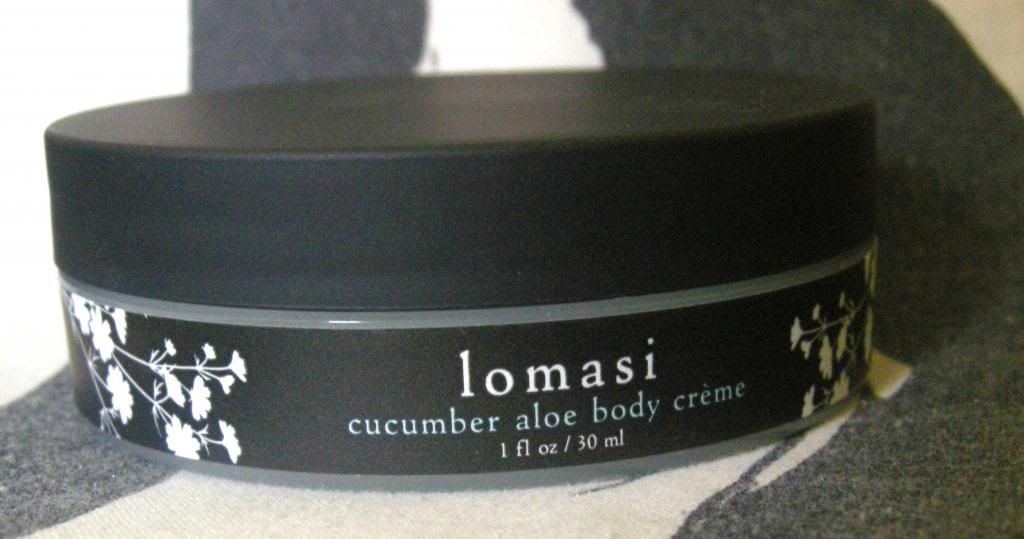 Lomasi Body Cream - RRP $22.95 for 236mL
I received a 30mL sample of this product
"For intense, prolonged moisturising of dry body parts, like heels, elbow and knees, or to enhance the impact of manicures and pedicures, these rich cremes using beautiful fragrances like mango, pomegranate, ginger and lime.

"
I know I should be, but I'm not really one for body moisturisers and such. I just forget about them.. With that in mind, I wonder whether this will change my mind?

Star & Rose Hologram Tweezer - RRP $9.95
I received a full sized pair of tweezers
"Never lose sight of your tweezers again! These fun and colourful precision tweezers stand out from the rest and bring a little sunshine to your daily beautiful routine.

"
Just a day before these arrived I found my tweezers after looking for them for about a month. Madness! I've since FINALLY done my eyebrows and, from what I can tell, I really like them!
So, everyone, that was my Lust Have It! pack for the month of November. I feel quite neutral at this pack. I wasn't super impressed, nor was I disappointed, by it.
Did you receive similar products? What was your favourite product in the pack?
Also, what do you think the new collectible packaging will be? Are you as excited as I am to find out?
Like what you're reading? Follow me.
Got Instagram? Follow me at BornToBuy!