At one time or another every girl has wanted to have the opportunity to design their own cosmetics, right? I know I have! With this new Trend Edition from Essence you'll be able to do just that!
"Unlimited colour, unlimited effects, unlimited looks! All creative beauty queens take note: from November 2012, Essence offers endless new and cool styling options for your eyes, lips and nails with the Trend Edition 'Colour Arts'. Pure colour pigments in bright shades - from matte and subtle shimmer to metallic and sparkling glitter - ensure a unique look that is guaranteed to be eye-catching. All pigments can be mixed and matched for an absolutely individual look. Whether used on their own or combined - the expressive colours in this trend edition are sure to lift your mood and awaken your creativity. Do it yourself .. with Essence!"
- Press Release



Yes, that's right - you can make your own make up! This trend edition comes with everything you'll need to create fantastic eye, lip and nail colours and products, as well as a tool. Want to know what's in the trend edition? Keep reading!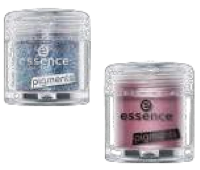 Colour Arts Pigments
"Rainbow colours! It's hard to choose when you have a choice of 11 expressive colours and endless effects. Simply select your favourite colours, mix them together upon demand and apply on the respective moist base for your eyes, lips and nails. Thanks to the high pigmentation and extreme coverage of the colours, each individual Colour Art look is sure to be a success - every single day! RRP $4.15 each."

Left to Right: #02 Smell the Caramel, #03 Box of Chocolate, #04 Broadway
Starlet, #06 WOW it's Orange, #09 My Brightsmaid and #10 Fairy Dust

Left to Right: #02 Smell the Caramel, #03 Box of Chocolate, #04 Broadway
Starlet, #06 WOW it's Orange, #09 My Brightsmaid and #10 Fairy Dust

Left to Right: #12 Miss Piggy's Lollipop, #14 Strawberry Smoothie,
#18 Little Mermaid, #19 Kiss the Frog and #20 Black Sparrow

Left to Right: #12 Miss Piggy's Lollipop, #14 Strawberry Smoothie,
#18 Little Mermaid, #19 Kiss the Frog and #20 Black Sparrow
These pigments are all super beautiful and, as I'm sure you can see, very pigmented! They're all very much suited for different things, but I think they'll all make fantastic nail colours.
So far my favourite for the eyes is #02 Smell the Caramel. The orange toned brown makes my blue eyes 'pop' and who doesn't want that?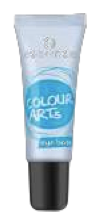 Colour Arts Eye Base
"Stays on and on.. The superfine, transparent eyeshadow base allows a smooth application of the colour pigments and guarantees long lasting and intensive eye make up thanks to its great bonding effect. RRP $2.95."
This eye shadow base is surprisingly good and I would have no problem recommending it to people, especially if they use a lot of loose eye products such as pigments. This eye base is quite tacky, much more than my Urban Decay Eyeshadow Primer Potion, so I find the Colour Arts Pigments work so well!
Colour Arts Lip Base
"The perfect base for the application of colour pigments on your lips! First, apply the transparent base and then dab on the desired colour pigments with the multi tasker. The colour arts pigments are also ideal for creating unique shading and patterns. RRP $2.95."
This lipgloss seems to have the same formulation as Essence's other lipglosses. This clear lip gloss smells great, lasts a long time and could easily just be worn as a clear gloss!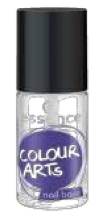 Colour Arts Nail Base
"Mix it, baby! The transparent nail polish base can be mixed with one or more pigments to create totally new colour combinations over and over again. It can also be used as a colour sealing top coat. RRP $2.65."
When creating an accent nail with #04 Broadway Starlet, I used this polish to adhere the glitter and seal it once applied. Not only did the nails last numerous days, somehow the polish didn't pick up too much stray glitter!
Colour Arts Multi Tasker
"Multitasking made easy! This applicator has been specially developed to ensure that the pigments are applied in just the right place. The silicon tip allows an accurate dosage and exact positioning. The application is an absolute all rounder - it is ideal for professional application on your eyes or lips and for effortlessly mixing the pigments. And with make up remover, it's easy to clean the multi tasker too! RRP $2.15."
Today I created a gorgeous lip colour using this tool to mix and apply the product. Whilst it was so handy and made the process very mess free, I definitely don't think it was easy to clean. I got a bit adventurous, however, so maybe I need to calm down!
Whilst I'm no pro at mixing products, I thought I'd show you how I create today's lip colour.
Decide! I know the press release suggests that the colour is dapped onto the lips, however I wanted to mix it up myself. I put some of the Lip Base onto my Lime Lily make up palette. After deciding what I wanted to use to create my lip colour (I used #06 WOW it's Orange and #14 Strawberry Smoothie), I shook equal parts next to it.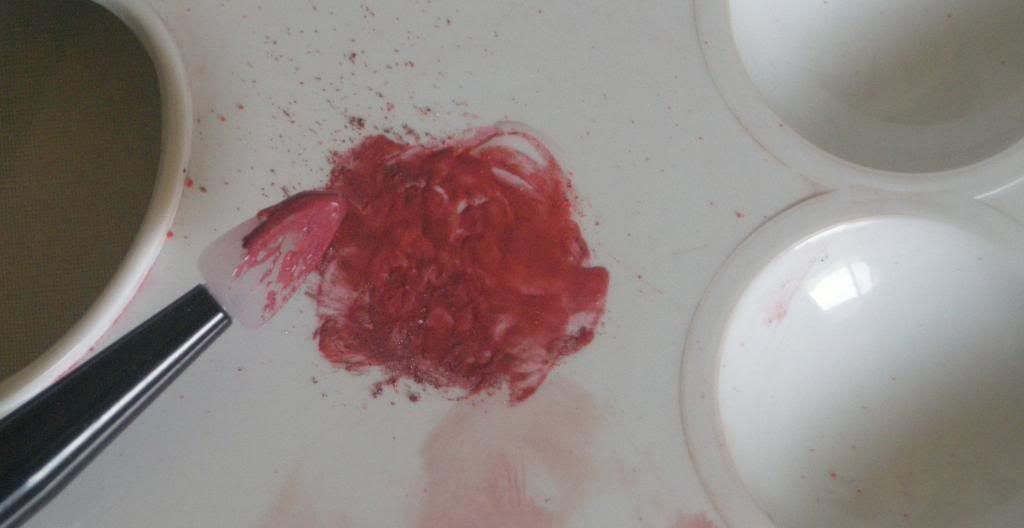 Mix! Mix the pigments into the base until you have the perfect colour!

Apply! I used the Multi Tasker to apply the lip colour and it distributed it surprisingly well!
Today I used the Colours Arts Pigment in #02 Smell the Caramel as an eyeshadow and, wow, I really love it. The Eye Base held the shadow in place well. Obviously there was some fall out during application, but that's to be expected with loose pigments.

I am wearing Inglot's #395 Freedom Palette Eyeshadow in the inner corner and MAC's Wedge in the crease with Almay's Get Up and Grow mascara in black, a new favourite.
As you can see, Essence Colour Arts Trend Edition is the perfect
collection, especially if you want total control over the colours you're wearing. I'm really looking forward to creating more eye, lip and nail looks with the pigments so stay tuned, I'm sure you'll see them in upcoming posts!
Essence "Colour Arts" will be available in selected Priceline stores in November 2012.
***
So, everyone, that's one of the newest Trend Editions to hit our shelves from Essence. What do you think of it? Which pigments appeal to you the most? Will you be buying anything from this Trend Edition?
Enjoy getting creative, ladies!
**
Please be aware:
This product was sent me for review, however all opinions are my own. I was not paid for this review.
Like what you're reading? Follow me.
Got Instagram? Follow me at BornToBuy!