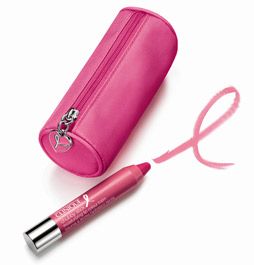 As I mentioned in my Buy Pink and Be Breast Aware in 2012 post, October is International Breast Cancer month. As they have done every year, Clinique have released two limited edition 'pink' products, with a percentage of the money being donated to the National Breast Cancer Foundation.
Their limited edition Chubby Stick in the shade Pumped up Pink is high on my shopping list. The Chubby Stick is housed in a Pink pouch, featuring hearts and a Pink ribbon.
This product is on my list for a couple of reasons. First and foremost, I like the fact that some of the money will be donated to a great cause. This limited edition product retails for $35.00, with $5.00 of the sale being donated. Also, I love my Revlon Just Bitten Kissable Balm Stains and, given that the Clinique Chubby Sticks seem to be the product that started the whole lip crayon phase, I'd love to give them a try. Finally, I'm loving pink lips at the moment so I just think this would be a great addition to my collection.
So, everyone, what's on the top of your Want it Wednesday list this week? Do you like to buy Pink in October?
Like what you're reading? Follow me.
Got Instagram? Follow me at BornToBuy!