"Australia's number 1 nail polish brand ulta3 is onto the hottest nail trend, Nail Art Stickers! Inspired by celebrities around the globe who are well known for flaunting wild designs on their nails, ulta3 has 6 brand new nail art sticker designs full of fun prints, patterns and styles and, in true ulta3 form, these are launching at just RRP $5.00.
These stickers are not made from real nail polish so you don't have to worry about using them all at once as they will not dry out. Each individual sticker pack comes with a nail file and easy to follow instructions to help you create instant fashion nails. To ensure a perfect fit, each pack contains 8 sizes and a total of 16 stickers."
- Ulta3 Nail Art Stickers Press Release

Left to Right: #04 Safari Diva, #05 Golden Gate, #02 Diamond Droplet,
#Black Tie Affair, #03 Bling it On and #06 Rainbow Bright
On Wednesday I came home to find a parcel from Ulta3 waiting for me. Yes, I was lucky enough to receive a package containing all six of the Ulta3 Nail Art Stickers designs.
These were a total surprise so, as I'm sure you can imagine, I HAD to give them a try. I'm terrible at applying nail stickers, well, always so I decided to use one on each hand as an accent nail in case.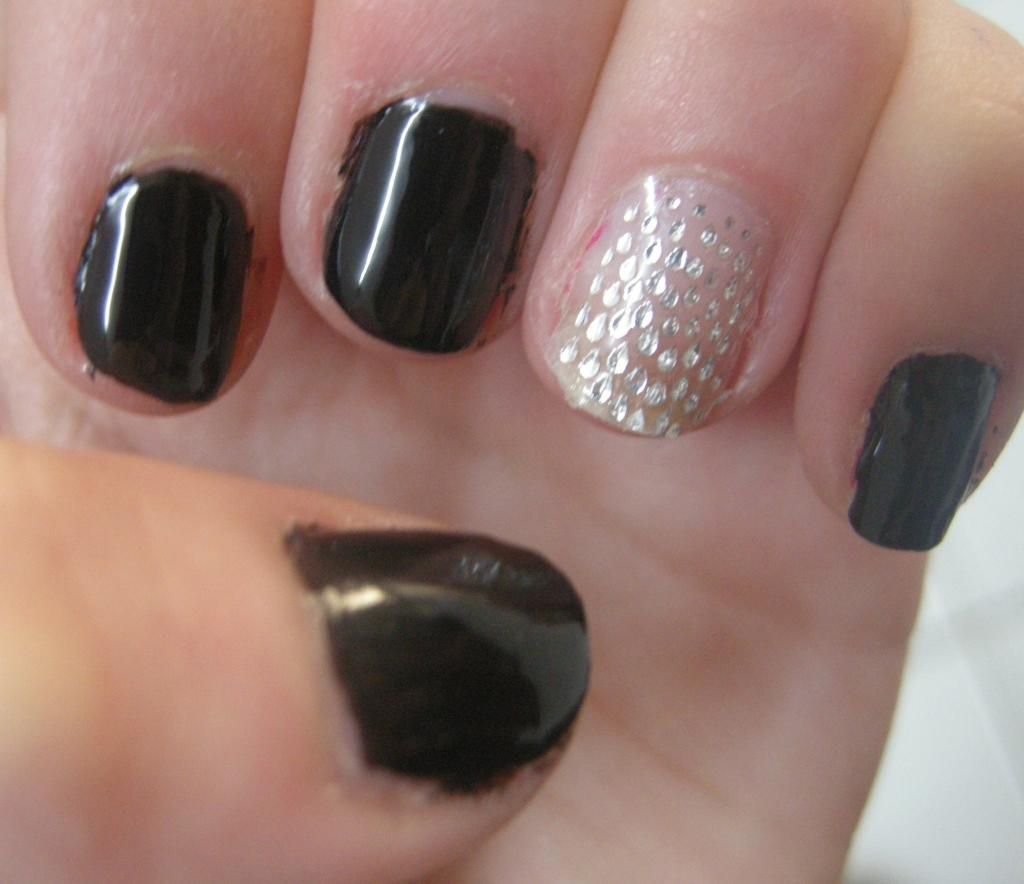 I applied the Ulta3 Nail Art Sticker in Diamond Droplet on my ring finger, with OPI's Black Onyx on the other four fingers. This was the first time I'd worn black nail polish since I uploaded my Goodbye, Black Nail Polish post, so that was also a little bit exciting for me.
These nail stickers were so easy to apply. I used the following steps (also printed on the back of the packaging).
Start with clean, dry nails shaped to your liking. Push back the cuticles if needed. For best results, give nails one last swipe of nail polish remover to remove any excess dirt or oil.

Select the best fitting sticker for each nail.

Feel off the sticker and apply it not the nail with the rounded end close up to the cuticle. Firmly smooth the sticker onto the nail using a cuticle stick.

Smooth excess over the nail edge, forming a crease over the edge of the nail. Gently file away excess from the nail edge with the nail file.

To remove stickers, gently peel off and use nail polish remover if required.
The sticker fit my nail exactly, making the application process so easy. The difficult part for me, however, was shaping the sticker to fit my nail. Initially I followed the instructions above, however I ended up cutting the excess off with a pair of scissors and rounding it off with the nail file that came with the kit.
These nail stickers are new to the Australian market and not like any others I've tried before. As stated above, they aren't made from nail polish. Instead, to me, it's literally like a plastic sticker that can just be placed on the nail. I found them a lot easier to apply than traditional stickers and I'm definitely more likely to repurchase them.
The stickers lasted a fair while. After wearing them for a couple of days I took the black polish off, replacing it with a hot pink.
The Ulta3 Nail Art Stickers will be available from October.
As of right now, Born to Buy's Facebook page has 336 likes. When it reaches 350 I will be holding a giveaway on the page. I will be giving away two of the Ulta3 Nail Art Stickers packs. Want to win? Like the page and share with your friends!!
Like what you're reading? Follow me.
Got Instagram? Follow me at BornToBuy!
**
Please be aware:
This product was sent me for review, however all opinions are my own. I was not paid for this review.