I used to think people were crazy when they said they had a make up bag within their bag - I mean, who needs to take THAT much stuff with them? It turns out they're not crazy, they're super organised, and I've decided to jump on the bandwagon to clean up the mess that is my handbag.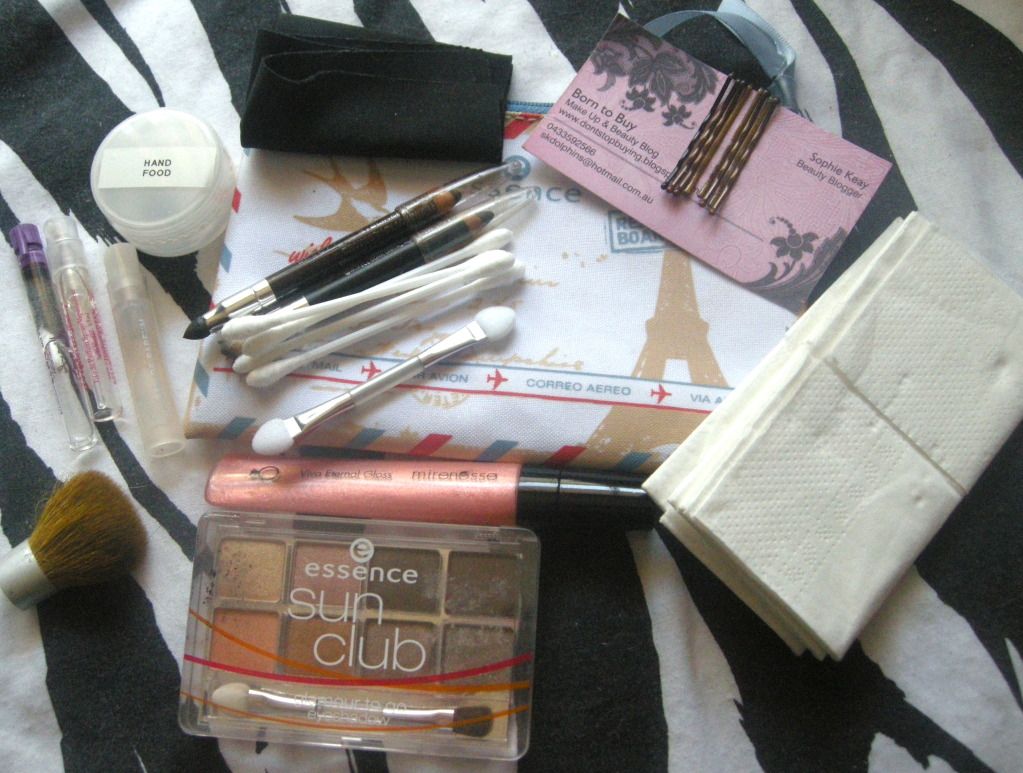 The make up bag I use is the Cosmetics Bag from Essence's latest trend edition, Ready for Boarding, and is the perfect size for my handbag. This small cosmetics bag retails for $4.95.
The following products are in my make up bag
Essence Sun Club Glamour To Go eyeshadow in #02 Long Beach: I bought this palette many months ago and figure it's perfect for the handbag, given its size and the fact that it has a good selection of everyday colours to freshen up any look
Soap and Glory Hand Food: I got sick of carrying my big tube of hand cream around with me so I've depotted it and refill it as required
Bare Minerals mini kabuki: I managed to score this mini kabuki a few months ago as part of a promotion. My bag also contains my MAC Studio Fix Powder in NC20 at all times, however it doesn't fit in this little bag
Mirenesse Viva Eternal Gloss in Show Girl: This is a great lip gloss that adds colour to any look and it's just a product that will come in handy, once again for touch ups
Covergirl Perfect Blend Eyeliner in Black and Brown: These eyeliners will provide me with the tools to adjust my look, especially if I feel my eyeliner has worn off throughout the day or if I look like I need a 'lift'
Perfume:

I have three perfume samples in my handbag; Viva La Juicy by Juicy Couture, Wonderstruck by Taylor Swift and Miss Dior by Dior. Although I do alternate them occasionally, the first two are almost always in there are they are my two most worn fragrances

Cotton buds and eyeshadow sponge: Although the Essence palette contains a small double ended brush, I threw in some cotton buds and the double ended sponge applicatior from the Essence Ready for Boarding Beauty on Tour palette 'just in case'.
Bobby pins: I always have bobby pins in my hand bag. It goes without saying. Instead of having them floating around my handbag, I put them on one of my blog business cards to keep them altogether.
Glasses cleaner: The black thing in the top left hand corner of the photo is a fold up glasses cleaner. Although I don't wear them as much as I should, I have glasses for reading, as well as sun glasses, and there's nothing worse than putting them on and finding that they're dirty!
So, ladies and gents, that's everything in my hand bag. As you can see, I just like to be prepared and know I'm going to be able to rescue myself from any beauty emergencies that may arise.
What do you always keep in your handbag, beauty or otherwise? Do you have any tips and tricks for what to have in your handbag? I'd love to know! Also, what's your favourite use for small cosmetics bags?
Always look your best,
Like what you're reading? Follow me.
Got Instagram? Follow me at BornToBuy!