I absolutely love my make up set up. In the past few months I've been perfecting all areas of my make up storage and last weekend I put the final touches on it. Remember to check this whole post out - There's a super exciting giveaway at the end!
*Before I continue, I apologise for these photos. They were taken in the afternoon with the lighting doing all sorts of crazy things. Yes, I should have taken them in a the morning. :(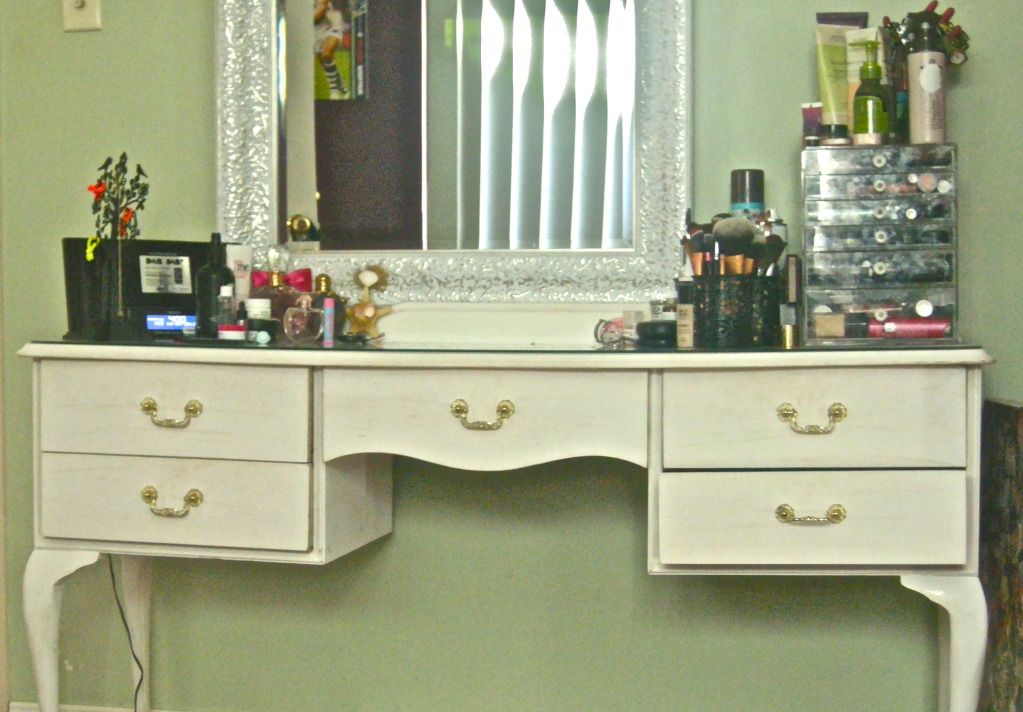 One of my favourite pieces of furniture is my Queen Anne Dressing Table. I bought this dressing table from Gumtree in January and I am so in love with it. It took me a couple of months to find the perfect piece and I'm so glad I spent time to find one I reall
y loved. I'm in the process of 'redoing' my room, actually, and this dressing table was the start.
Anyway, that's all a little irrelevant. Most of my make up is stored on or in this dressing table, with a little stored elsewhere. The dressing table is not varnished and, as I'm sure you would understand, I was very nervous about having the top stained by foundation and all sorts. I was able to get a piece of glass cut to fit the top, however, so it's not an issue!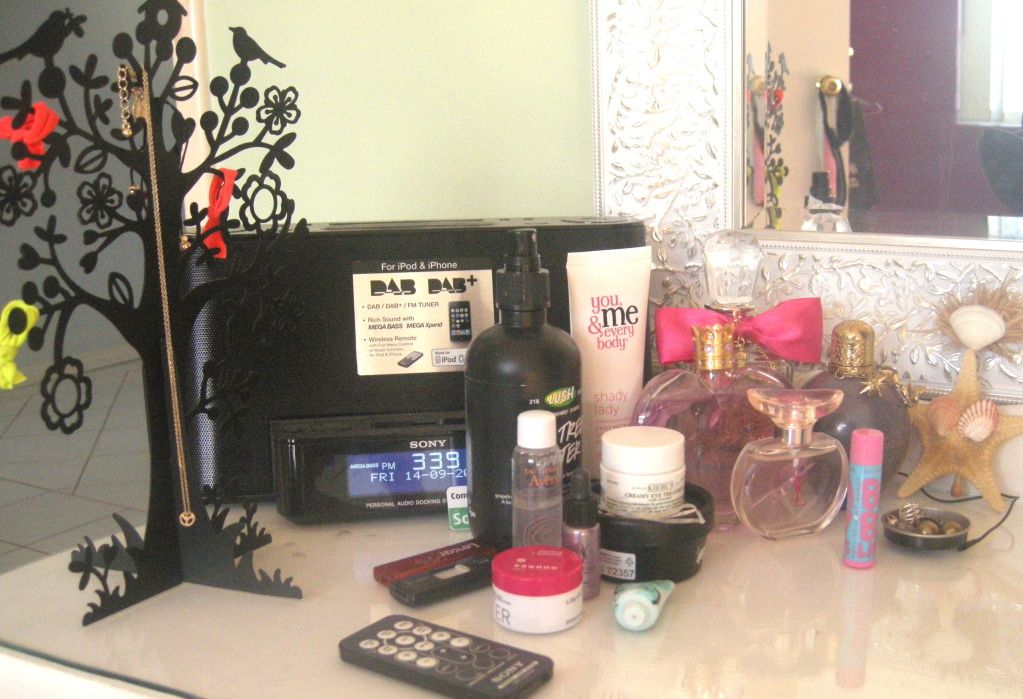 I used to keep all of my perfumes on there but, as my perfume collection grew, it started taking up far too much space on the table so I've decided to keep my favourites there, ensuring that I alternate them. At the moment I have Viva La Juicy by Juicy Couture, Princess by Vera Wang, Wonderstruck by Taylor Swift and Young Sexy Lovely by YSL. I also keep my LUSH Tea Tree Water, LUSH Gorgeous moisturiser, Khiels Creamy Avocado Eye Cream and a few other products sit on the left. I also keep the jewellery tree I was given for my birthday sitting there - I don't keep a lot of jewellery on it, however, purely because my nephew wreaks havoc with accessible jewellery.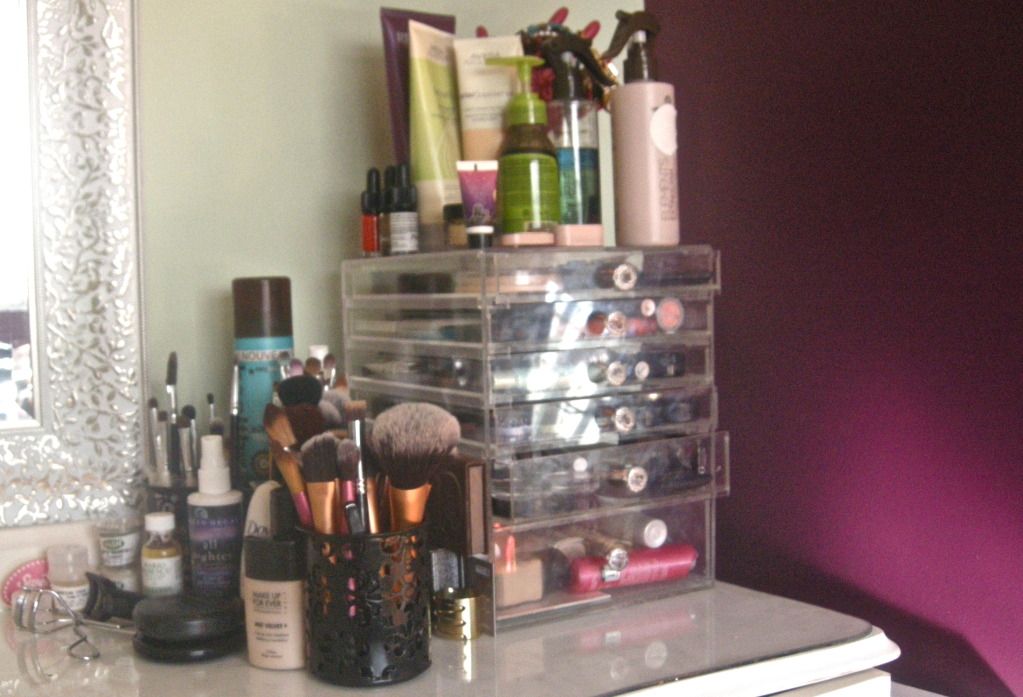 As you can see, I keep all of my make up brushes are stored in black cups from Typo. Not only are these cups pretty and practical but, for under $5.00 each, they're also really affordable! The right side of my dressing table also houses my
Urban Decay All Nighter Setting Spray
, two Make Up Forever foundations (Mat Velvet and HD High Definition Foundation), Mario Badescu Drying Lotion and a bunch of other bits and pieces.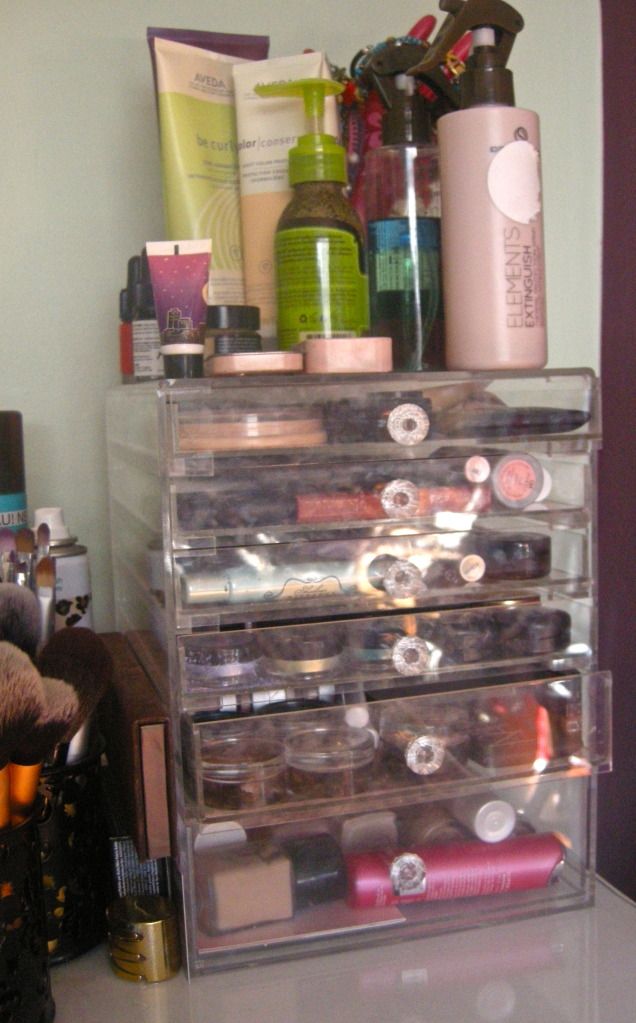 My Large Glamour Box is where most of the magic happens. It's where I store most of my make up and keep everything organised. The contents of my drawers is as follows -
- Drawer 1: Concealer and face powder
- Drawer 2: Blush and bronzer
- Drawer 3: Eyeliner and mascara (with lip pencils squashed in the back)
- Drawer 4: Most pan eyeshadows, loose dusts/pigments and cream eye products
-
Drawer 5:
All other eyeshadow
- Drawer 6: Foundation, bases and primers
This storage fits almost all of my make up but, in saying that, you may notice that I haven't listed lip products in this post. I recently moved where I store my lip products as I didn't have any room left.
Left to right: Middle drawer of dressing table and top right drawer of dressing table
I keep a small amount of make up in the dressing table drawers. The middle drawer contains my hairbrush, comb and make up wipes. Towards the back of the drawer there is also a selection of small palettes that I don't use often. The top drawer on the right contains a my rings and all the foundations that don't fit in the foundation drawer - Yes, I have that many.

To the right of my dressing table I have a four shelve unit that I use to store some beauty stuff, as well as other bits and pieces.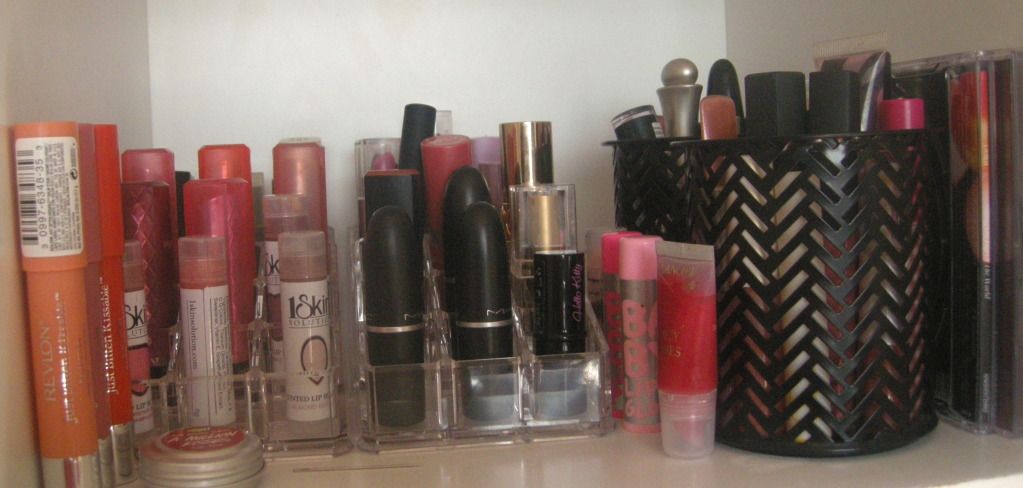 The top shelf has all my lip products in it. I have four 9 slot lipstick holders (all of which are full). To the right of that I have two more Typo pen cups, this time containing all of my lipgloss. Eventually I'll buy another
Large Glamour Box
so it's all closer, but this is fine for now.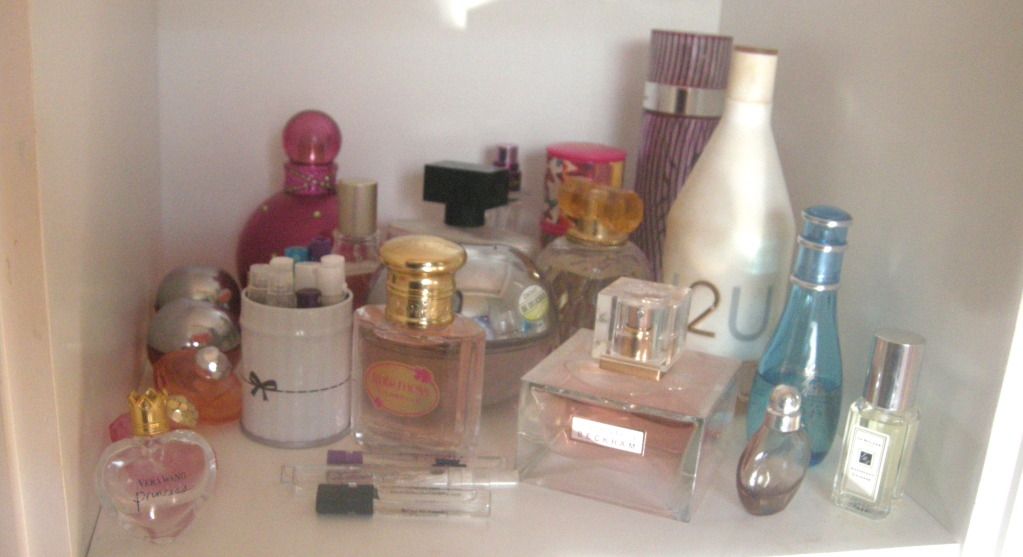 The drawer underneath houses all my other perfumes, including my samples.
And now for the part of this post that you've all been waiting for, the giveaway! The lovely team at The Make Up Box Shop is offering a Glamour Makeup Box to one of my viewers. The Glamour Make Up Box is a 5 drawer acrylicmake up box with the first four drawers measuring 3cm and the last one being 7cm, perfect for storing your larger pieces of make up. I own the Large Glamour Box, a six drawer unit, and I absolutely love it. This box retails for $120.00.
GIVEAWAY DETAILS
To enter, you must also comment below and include the following two pieces of information - The beauty product you would most like to put in the Glamour Make Up box, as well as your full name so I am able to ensure you have liked the above pages

You may enter more than once, however only once per day and each answer must be different

The winner will be randomly selected using

random.org

The giveaway will be open for just over two weeks and will close on Sunday, September 30, at 6.00pm WST (West Australia time). The winner will be announced later that night.
Goodluck, everyone. As always, I look forward to reading you entries and I can't wait to share these products with a lucky winner!
Like what you're reading? Follow me.
Got Instagram? Follow me at BornToBuy!