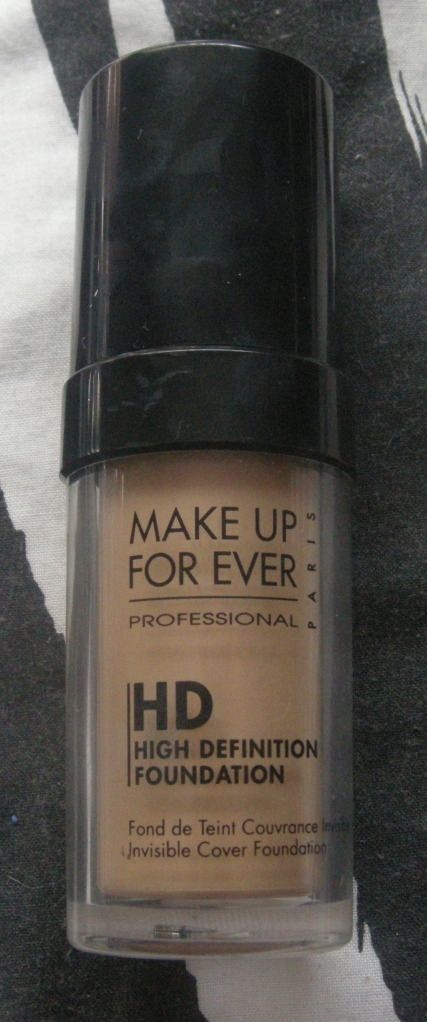 "The Make Up For Ever HD Complexion products use innovative formulas to create a new generation of make up which is both invisible on HD cameras and to the naked eye. The HD foundation is an oil-free medium-to-full coverage liquid foundation which covers skin imperfections, while remaining invisible on-screen and in real life. Its extremely fine texture is supple and easy to apply. Enriched with moisturising agents, it leaves the skin soft and radiant. It is available in a wide range of shades to suit all skin tones."
- Make Up For Ever
Anyone who loves make up will have heard of Make Up For Ever. This brand is spoken of so highly within the US beauty community, however I've never known how to access their products in Australia without using eBay. Recently, however, I was sent this foundation from an Australian online store, Media Makeup Store, along with another Make Up For Ever foundation.
Left to Right: No foundation and after
Make Up For Ever HD Foundation application
There is only one real thing I can say about this foundation - I love it! After hearing so many good things about a product such as this it's not hard to find them disappointing, yet this lived up to all the hype.
To apply this product I use my Sigma F80 Flat Top Kabuki or Real Techniques Buffing Brush. I find both work extremely to distribute and apply this product, providing me with the perfect amount of coverage.
The coverage provided by
Make Up For Ever's HD Foundation is incredibly. It coveres everything whilst looking natural and, of course, not cakey!
Make Up For Ever's HD Foundation has a semi matte finish. It's not as matte as Make Up For Ever's Mat Velvet foundation, however it's not as dewy as my NARS Sheer Glow foundation. I set my foundation with my MAC Studio Fix Powder but it definitely wasn't necessary.
As I'm sure you know, I have combination/oily skin. For this reason, I'm always skeptical about trying new foundation, purely because I don't want to end up looking like a grease ball. The finish of this product remains the same throughout the most of the day, meaning I only had to apply powder to my t-zone once throughout the day.
I am an NC/NW20 in MAC's Studio Fix Fluid and #120 Soft Sand is the perfect colour for me.
As I mentioned previously, I had trouble tracking down this product until recently. This foundation can be bought for $59.00 from Media Makeup Store and, in my opinion, it will be the best $59.00 you will spend in a long time!
Would I recommend this product? Definitely. As I'm sure you can see from my review, I absolutely love this foundation (can you say Holy Grail?!).
Also, are you a qualified make up artist? Apply for Media Makeup's Trade Discounts! All make up artists are can receive 25% add Media Makeup, whilst Makeup Students and Beauty Therapists receive 15%. What a great deal! For more information, or to apply, click here.
**
Please be aware:
This product was sent me for review, however all opinions are my own. I was not paid for this review.
This is my first ever Make Up For Ever product. Have you tried anything else? What's your favourites? Also, what's your favourite foundation at the moment?
Always look your best,
Like what you're reading? Follow me.
Got Instagram? Follow me at BornToBuy!