Although I've started uploading Empties posts to accompany my Favourites posts, you may have noticed I didn't upload one in August. I only had a couple of things so I figured it would make more sense to combine two, much like I did for June/July.
Not only did I manage to accumulate a fair few empties over the two months, I also 'sorted out my make up collection' a bit of a clean out and, in doing so, decided to throw out some samples and old products.
As you can see from this bag, it was quite full!
Firstly, I gave my base make up collection quite the overhaul. Being the make up hoarder that I am, I managed to accumulate a ridiculous amount of samples, as well as super old products and ones I never used anymore. All of these make up products are very old, with the samples either being almost used, not what I wanted or the complete wrong colour
BYS Concealer with Sponge in Light and Medium

Napoleon Perdis Patrol Conceal It

Environ Colour Foundation

Maybelline Mineral Power Natural Perfecting Concealer

MAC NC20 Cover Up Concealer sample

NARS Sheer Glow in Santa Fe sample

Chanel Vitalumiere sample in #20 Clair

Chanel Lift Lumiere sample in #20 Clair

Estee Lauder Double Wear foundation in Ecru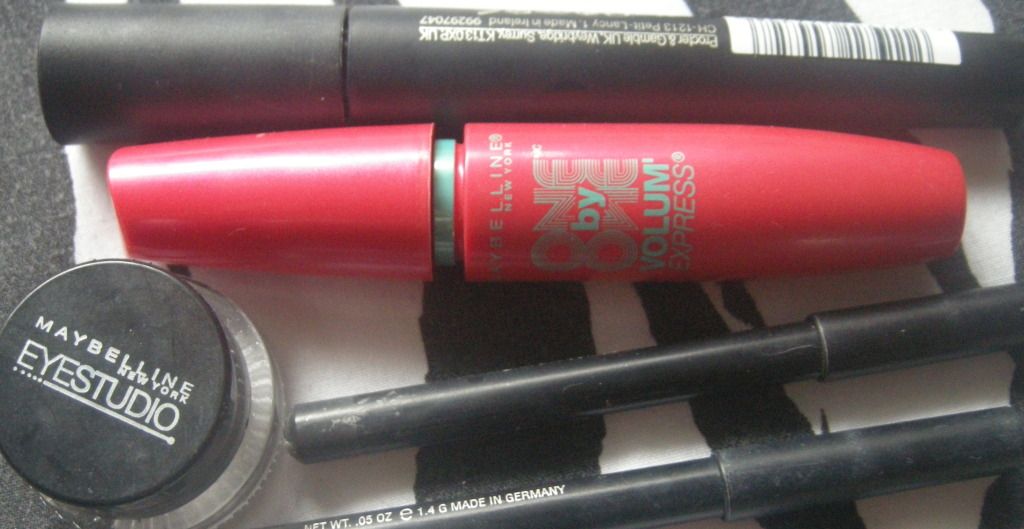 Although I wrote a post on it (click here to read it), I'm not very good at sticking to make up shelf life recommendations. In saying that, however, some of these eye products are so old that they just have to go, whereas others are just completely empty
Max Factor Lash Extension Effect Mascara: Totally empty and I'm halfway through a new one now

Maybelline One by One: I did not like this mascara. At all. I've had it since Janunary (click here to see haul), so it's time to go regardless
Maybelline Eye Studio in Blackest Black: Totally dried out. I may repurchase it, but for now I have my Entourage Cosmetics Smoke Eyeliner. It was also old - I bought it at the same time at the One by One mascara.

Napoleon Perdis Khol Eyeliner in Charcoal and Suede: These eyeliners are getting old and dry. I might give them a sharpen to see if I can get a little more wear out of them

And, finally, there's lip products
E.L.F. Hypershine Gloss in Cloud Nine: This came free when I ordered from the ELF Au and, although I like it, I have many similar lip glosses and it's not my favourite

Maybelline Baby Lips in Anti Oxidant Berry: This lip balm is my favourite. Ever. I go through one every twoish months
And here we have the skincare and miscellaneous products
Garnier Pure 24hrs Moisturising Care: I quite liked this moisturiser and the mattifying effect it had on my skin, however I'm happy with my current Skincare Routine

Clean and Clear Advantage Fast Clearing Spot Gel: I'm not sure how much this really did for my skin and, to be honest, I can't remember - I haven't used it in a long time

LUSH Enchanted Eye Cream: Totally empty.

LUSH Gorgeous Face Moisturiser: Totally empty and I now own the full size

Khiels Creamy Avocado Eye Treatment: I recently purchased this in full size

Estee Lauder Advanced Night Repair: Although I enjoyed using this product from my January Glossy Box, I doubt I will repurchase it

Famous tweezers: These tweezers came free in a magazine a long time ago and must finally go to beauty tool heaven

Napoleon Perdis Auto Pilot Eye Spy: This sample came with the

Napoleon Perdis Patrol Conceal It duo from a very long time ago and I figure it's time for it all to go. If I really loved it it would all be gone by now, right?
And now for the products I actually finished (well, apart from the mascara and lip balm)
Swisspers Make Up Pads: These are a staple for me. I use at least two a day for toning, as well as for removing my nail polish and eye make up. I'm sure I used more than one packet up in August/September but there was only one in my bag

Mario Badescu Drying Lotion: This is a favourite product for sure. I repurchased this product before this one ran out 'cos I can't dream of being without it. Stay tuned for a review

Dove Pink Deoderant - I love this deodorant, especially when I know that part of the sale will go to the National Breast Cancer Foundation.

Sasy n Savy Rose Lavender Hand n Hail Repair Creme - This product is completely empty. I received it in my February Lust Have It! box.
I believe Empties, especially if they are repurchases or being repurchased, are a great indication of the products people truly like. You only repurchase what you love, don't you?
What have you used up this month, beauty or otherwise? Do you have any recommendations? Is there anything featured that you'd like reviewed?
Always look your best,
Like what you're reading? Follow me.
Got Instagram? Follow me at BornToBuy!