At the start of August I received a very exciting package in the mail, Ulta3's Pretty Pastels Spring 2012 nail polish collection. This package was a total surprise to me and, as I'm sure you can imagine, very exciting!
"Pastel hues, from sweet pale pinks to sky blues, make nails look feminine, clean and fun, and they perfectly complement a glowing spring tan. Update your nail wardrobe with the prettiest of pastels! The versatile new nail shades are the ultimate fashion accessory this spring and summer"
- Ulta3 Spring/Summer 2012 Pretty Pastels press release

SOURCE
Left to Right: Corsican Rose, Soft Hydrangea, Pink Peony,
Lilac Bloom, Pale Dahlia and Orange Blossom
The Ulta3 Spring/Summer 2012 Pretty Pastels collection consists of 6 new nail polish shades, most of which are pastels.
Left to Right: Corsican Rose, Soft Hydrangea and Pink Peony
Left to Right: Lilac Bloom, Pale Dahlia and Orange Blossom
*Please excuse the terribly polished nails. My nails were painted purely for the photos, so I didn't do the touch ups I would typically do
** These photos were all taken after three coats of polish, except for Orange Blossom where I did four
As you can see from the pictures above, the nail polishes are absolutely beautiful. I found that five of the polishes had a creamy consistency whilst Orange Blossom was a little more gel like, meaning that I felt a fourth coat was required to make the colour my desired level of opacity.
These nail polishes had a fantastic finish. Three coats of each colour gave an opaque finish, however if you painted your nails with thicker coats (I have a phobia of thick coats and apply my polish quite thin), I feel that two would suffice.
I found that all nail polishes in the Pretty Pastels collection dried very quickly, which was fantastic. After drying, my nails had the occasional, very small bubble in them but it wasn't noticable. Given that it happened with all six polishes, I don't know whether I can attribute it to the polishes or the base coat I recently bought. I've only used this base coat with these polishes (these are the only colours I've worn in the last month), so it's hard to tell!
To say which polish is my favourite would be impossible, purely because I love every single colour. I am, however, a big fan of Pink Peony (a bright pink) and Orange Blossom (a peachy orange polish) and probably choose to wear them the most. I've never been a fan of baby pink so I'd have to say that Pale Dahlia is my least favourite, however it's still a beautiful colour.
All in all, these nail polishes are absolutely incredible. I'm a big fan of them and so grateful to have received them. If you've seen my Goodbye, Black Nail Polish post you'll know that I've been trying to wear brighter nails and these polishes have helped me achieve just that. I had never tried Ulta3 nail polishes before, but I am already planning to pick a 'bunch' more. And, at $2.00 each, what's stopping me buying them all?! Nothing!
These nail polishes are available as of September, 2012, as your local Ulta3 stockist! Each nail polish retails for $2.00. Spend $10.00 on the Ulta3 range and
receive a free designer tote bag, designed exclusively by Neryl Walker for Ulta3.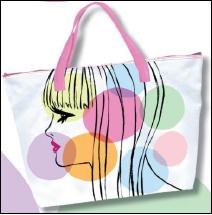 So, everyone, what do you think of these nail polishes? Do you think you'll love these nail polishes as much as I do?! Which are you looking forward to picking up? Also, what are your favourite Spring and Summer trends for this year, nails or otherwise?
Click here to enter my Saucy Sweethearts bath and body giveaway!
**
Please be aware:
These products were sent me for review, however all opinions are my own. I was not paid for this review.
Like what you're reading? Follow me.
Got Instagram? Follow me at BornToBuy!