Yesterday I received a fantastic parcel from Saucy Sweethearts, an online store established in Western Australia. I was lucky enough to be a sent a number products to review and I can't wait to share it all with you!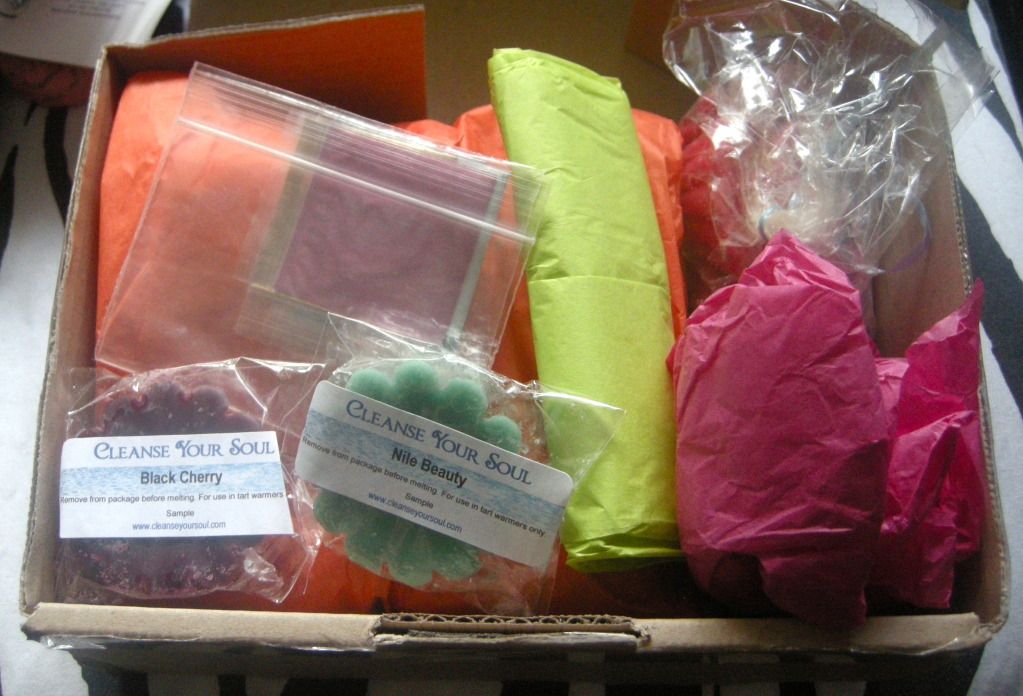 "At Saucy Sweethearts we love celebrating women! Women are such a diverse sex and each one of us deserves to be able to feel, look and smell fantastic whether you're heading out on the town with your girls or having a lovely night in pampering yourself.
Our goal is to provide you with the most amazing bath, body, cosmetics and hair care products we can get our hands on without you having to pay an extortionate amount of postage."
- Saucy Sweethearts
As I said, the box was completely full of exciting products, so let's get into it!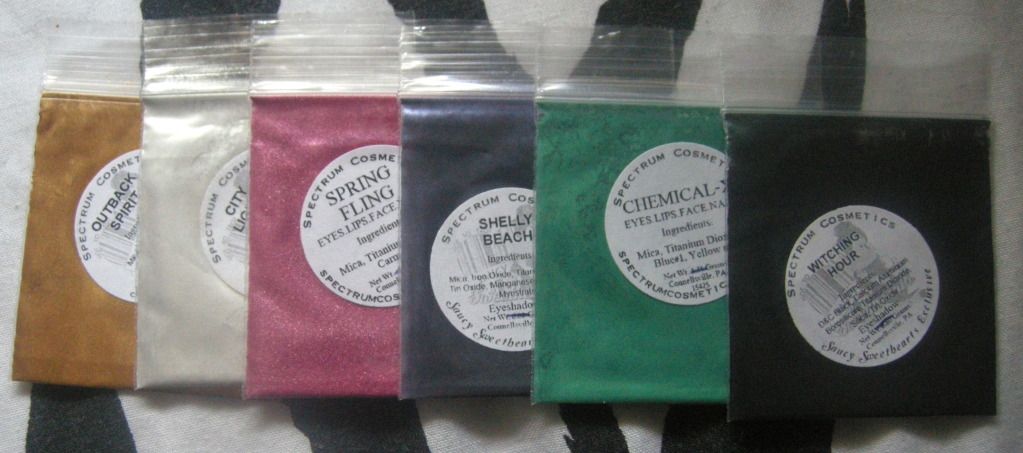 Left to Right: Outback Spirit, City Light, Spring Fling,
Shelly Beach, Chemical X and Witching Hour
I also received samples of six Mineral Eyeshadows from Spectrum Cosmetics. The colours I received are -
Outback Spirit - Bright warm toned gold
City Lights - Metallic silver white
Spring Fling - Glittery medium pink
Shelly Beach - Blue/purple shimmer
Chemical X - Teal green with shimmer
Witching Hour - Matte black with iridescent sparkle
To read a review of these shadows, click here.
Three of these colours (Outback Spirit, City Lights and Shelly Beach) feature in an exclusive Australian collection, only available at Saucy Sweethearts for $65.00 for 10 eyeshadows. The other three shadows (Spring Fling, Che
mical X and Witching Hour) are
available
individually at $9.00 each.
Left to Right: Rockabetty Pot Stick,
Changeling and Cupcake Not a Muffin
I received three products from the Rockabetty Cosmetics -
Pot Sticker - Pot sticker eyeshadow primer
Changeling - Pearly peachy-pink with a copper colour shifting base and red/copper shimmer
Cupcake Not a Muffin - Pink to orange colour shifting duo-chrome, loaded with burnt orange glitter
To read a review of these shadows, click here.
I'm really looking forward to giving all these products a try. The Mineral Eye Shadows are incredibly pigmented and blend really nicely. As I'm sure you all know, I'm big fan of eyeshadow primers, especially my Urban Decay Primer Potion, so I'm interested to see how this compares! The Rockabetty Pot Sticker is $7.50 for a 5g pot and the Mineral Eye Shadows are $9.00 for a 3g pot.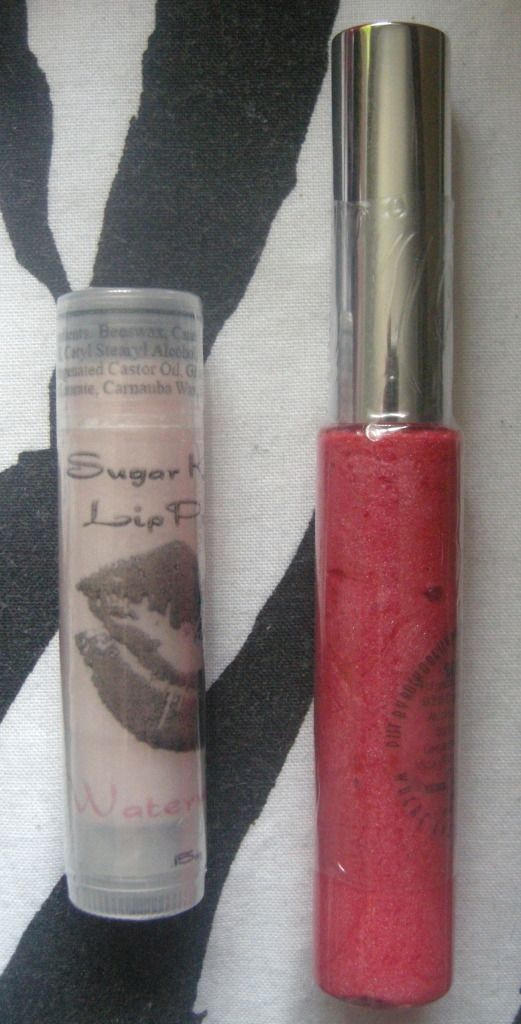 Left to Right: Spectrum Cosmetics Watermelon Lip Srub
and Rockabetty Lip Gloss in Single White Female
Once again, I'm really looking forward to giving these products a try! The lip scrub smells absolutely beautiful and the lip gloss is a fantastic pinky coral colour!The Spectrum Lip Scrub is $6.00 and the Rockabetty Lip Gloss is $12.00.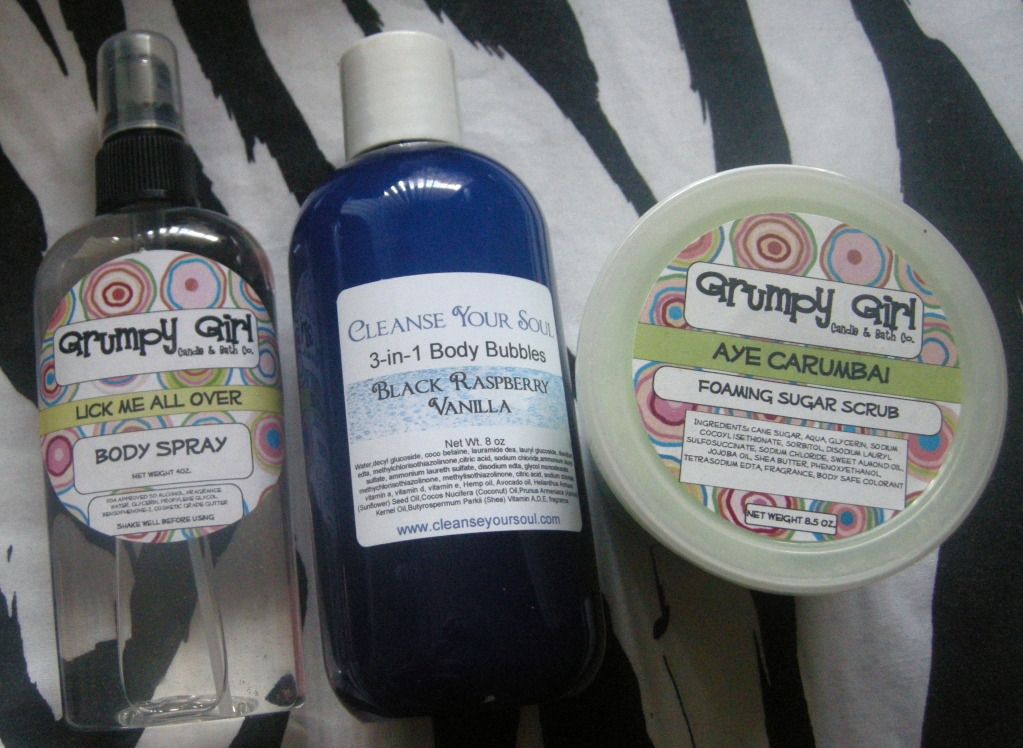 Left to Right: Grumpy Girl Body Spray in Lick Me All Over, Cleanse Your Soul 3-in-1 Body
Bubbles in Black Raspberry Vanilla and Grumpy Girl Foaming Sugar Scrub in Aye Carumbai
These products all look, smell and sound absolutely incredible! Their range of bath products are incredible and the Body Sprays, 3-in-1 Body Bubbles and Foaming Sugar Scrub all come in a range of fragrances.
Given that I was lucky enough to be sent all these products, I decided it would only be fair if I shared them with a lucky winner or two! I am in the process of working out the final details for the giveaway so stay tuned. It will be announced in a post within the next couple of days.
For more information on any of the products feat
ured in this post, please head to the Saucy Sweethearts
website
or
Facebook page
!
So, everyone, what do you think of these products? Which products are you looking forward to reading reviews on? What should I review first?
**Please be aware: These products were sent to me review, however all opinions are my own. I was not paid for this post.
Like what you're reading? Follow me.
Got Instagram? Follow me at BornToBuy!